Crime and the City: Crime and Drugs
Published on 6th December 2011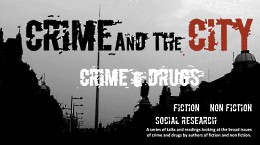 In September of 2011 we held our first series of 'Crime and the City' where over the course of five weeks we had talks from five different authors of fiction, non-fiction and social research - all on the broad topics of crime and drugs.
The idea was to bring a cross section of people together to deliver a series of talks that would be relevant as well as entertaining. From the feedback and comments people passed on we seem to have achieved what we set out to and we hope to be able to do it all again in 2012. In the meantime if you want to be reminded of what went on, or if you missed out we have some of the talks and presentations below for your enjoyment.
Declan Burke reads from Absolute Zero Cool
Declan Burke is an author, journalist and noted blogger. As the owner of the Crime Always Pays website he keeps tabs on the crime writing scene, paying special attention to works and writers of Irish interest.  He also pens a monthly Crime Beat column for The Irish Times Review supplement. A multi-talented chap he edited the recent bestselling Down these Green Streets anthology which drew together contributions from the cream of Irish crime writers and commentators on the craft, context and critical relevance of the crime genre in this Emerald Isle.
Declan read from his novel Absolute Zero Cool, which was shortlisted for the Bord Gáis Irish Book Award and in between segments explained how he had come to write this well regarded book.
Questions initially focused on the writing process, his publishing history, online promotion and his blog. Discussion afterwards ranged on everything from blowing up hospitals to crime writing in Ireland.
Check availability of books by Declan Burke in the library catalogue.
Crime and Drugs by Johnny Connolly
Johnny Connolly is a criminologist in the Alcohol and Drugs Research Unit of the Health Research Board. He has researched and written on community policing, drugs and crime and alternatives to imprisonment. He is a Board member of the Irish Penal Reform Trust.
Johnny gave a talk outlining current research and policy on the broad areas of crime and drugs. He explained where the statistics in use come from, what they explain and what they may conceal. He also went through recent trends in drug consumption (rise in the Celtic tiger years, subsequent fall and the 'headshop' phenomena) and the official response to this. The presentation was followed by questions and answers.
Johnny Connolly talk transcript.
Check availability of books by Johnny Connolly in the library catalogue.
John Lonergan entered the prison service in 1968 and became Governor of Mountjoy in 1984.  After 42 years in the prison service he retired and wrote The Governor which told his life story from his upbringing in rural Tipperary to his retirement as the Governor of Mountjoy.
John gave a very engaging talk on his time in the Prison Service and his philosophy on prison, dealing with prisoners and people in general. He touched on parenting, the importance of education, self-esteem and community.
John Lonergan talk transcript.
Check availability of 'Governor' in the library catalogue.
Crime and the City: Cormac Miller reads from An Irish Solution
Cormac Millar
Cormac Millar is the author of the critically acclaimed novels An Irish Solution and The Grounds. Cormac read from An Irish Solution, interspersing it with comments and questions about the nature of crime and crime writing, the paradoxes raised when society attempts to control criminal activities and the failings of the political establishment.
Cormac Millar talk transcript.
Search for books by Cormac Millar in the library catalogue.
The Irish War on Drugs by Paul O'Mahony
Paul O'Mahony gave a thought provoking talk outlining the arguments made in his book The Irish War on Drugs. A criminologist and a Senior Lecturer in Psychology in Trinity College Dublin he has written extensively on the issues of drugs, crime, treatment, prison and rehabilitation. Interestingly his work was referenced by both Johnny Connolly and John Lonergan who spoke earlier in the series. Paul's talk was recorded but subsequently sabotaged by gremlins. Unfortunately the audio was unrecoverable.