Published on 29th August 2008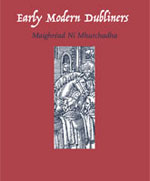 Dublin City has a remarkable collection of historical documents, many of which are under the care of Dublin City Public Libraries and Archive. Dr Maighread Ní Mhurchadha has drawn on the contents of these and other records to tell the stories of some of Dublin's residents during the Renaissance period in her book Early Modern Dubliners. Despite many difficulties, including plague, riots, the threat of war and serious religious differences, the citizens maintained a spirit of independence, a belief in the importance of their city and a strong sense of community, often using unorthodox means to achieve their ends and, occasionally, even managing to enjoy themselves!
This talk marked the launch of the Early Modern Dubliners on the 28th August, 2008.
Search the library catalogue for Early Modern Dubliners.
Listen to the talk while following the presentation:
Audio only:
Thank-you for listening! To hear more, please subscribe to the Dublin City Public Libraries and Archive podcast on iTunes or SoundCloud.