Dublin and the Dublin City Libraries and Archives
Published on 15th March 2023
In Autumn 2022 Georgina G. from Athens worked with us in Dublin City Library and Archive on an Erasmus Plus placement from her college, University of West Attica in Greece. Georgina brought her enthusiasm and energy along with her knowledge of libraries and archives to DCLA and we really enjoyed having her as part of the team and we miss her cheerful presence! She worked on various collections and processes with us – something tells us she'll be back to Dublin...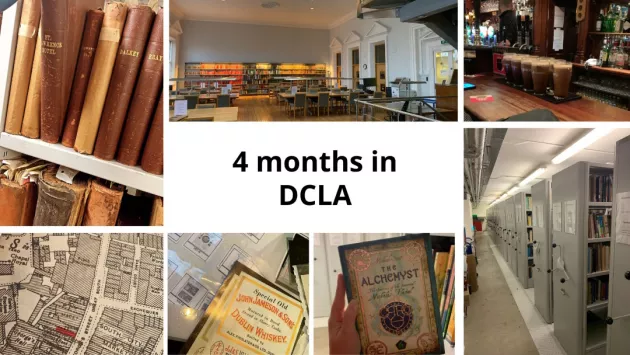 Coming to Dublin was both an exciting and scary process, until I landed. The city is so beautiful, the people friendly, welcoming and warm, unlike the weather that you grow to adore as time goes by.
What's Ireland without a little bit of rain after all? 
The city is so beautiful and full of interesting spots to visit, I enjoyed the hospitality and friendliness of the people, long and beautiful walks in the parks and the city centre, the Irish pubs and Guinness! Good friends, museums, history, literature, day trips in different county's, everything made my stay here unique. 
Travelling to Dublin for work though was scary at the beginning. I wondered if my English would be enough for my work, if my skills would match the requirements of the organization and how would be working with new people. 
The only thing I can say is that after I met the staff at Dublin City Libraries and Archives, the fear left on its own. They welcomed me from the first day, giving me an insight in the collections, the building history, the organisation's policy regarding the collections and more interesting information along the way. Working with people that had a lot of experience and knowledge in Archives, gave me confidence to ask more questions and give ideas about different matters.
The staff trusted me from the beginning with the collections and the work that needed to be done. They were extremely reassuring along the way and they tried to give me a variety of collections to work on and different tasks. Rehousing collections, cataloguing, digitalizing material, appraising projects, all of these gave me a lot of knowledge on how to process different collections and confront any problems that may occur during the process.
It was also interesting, combining archives and libraries together, having experience in both fields, working on both really helped me understand the theoretical knowledge better . Organizing the Children's collection, using Spydus: a library management system, processing new books, and working inside in the collections was an amazing experience for me. 
My mentor also tried to show me around different and important parts of the city, inviting me in important events that the Archive is responsible for. It was an unforgettable experience that I am lucky to have. 
Thanks from Georgina.