Dublin: the city and the river
Published on 7th December 2016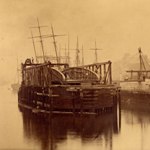 The area around the mouth of the River Liffey was inhabited from at least Neolithic times by farmers and fishermen. By the 8th century small churches provided the first signs of Christianity, one on the site now occupied by St Audeon's on the hill above the Liffey. The great arc of Dublin Bay offered an inviting harbour for sea-going vessels, although its sand banks, shallows, slob lands and treacherous currents proved an obstacle to larger shipping in reaching safe anchorage upriver.
The beginnings of Dublin as a major centre of habitation and trade go back to the Viking era when the River Liffey afforded a suitable landing place for Viking longboats and other trading vessels. Dublin was Ireland's first town, it grew up at the crossing point of the River Liffey known as the Ford of the Hurdles, and got its name Baile Átha Cliath from that crossing. Its alternative name Dubh Linn is derived from the Black Pool in what is now Dublin Castle. Dublin was also a focal point for four ancient trackways which crossed the country and converged on the east coast at Dublin Bay. Throughout its life as a town and a city the River Liffey and its tributaries provided the life blood for Dublin's growth and development. The river also has mythological qualities, as Anna Livia (Anna Liffey) becomes a character of folklore and literature.
A large collection of images from Dublin City Library & Archive can be viewed on Dublin City Council's website www.bridgesofdublin.ie
Browse and search for images of Dublin at the Libraries and Archives Digital Repository.
View Copyright Statement.
Many of the engravings featured in Dublin: the city and the river image gallery are from the following two sources:
Anne Plumptre, Narrative of a residence in Ireland during the summer of 1814 and that of 1815 by Anne Plumptre, 3 volumes, London, printed for Henry Colburn, British and Foreign Public Library, 1817. The Dublin City Library & Archive copy is a Grangerised edition, made up of the text of "Narrative of a Residence in Ireland" together with "A Voyage Around Great Britain", interleaved with numerous plates, maps, prints, cuttings etc. from other sources of comparable date.
History of the city of Dublin from the earliest accounts to the present time by J. Warburton, Rev. J. Whitelaw, and The Rev. Robert Walsh, 2 volumes, London, printed for T. Cadell and W. Davies in the Strand by W. Bulmer & Co, 1818. The Dublin City Library & Archive copy is a Grangerised edition, which includes 101 extra engraved plates.
Further Resources
The following online resources can be accessed free of charge at your local library. Ask library staff for information and assistance. View a full list of online resources available with your library card.
For further reading, consult the Library Catalogue.