The Dublin Covid-19 Pandemic Collection
Published on 13th May 2020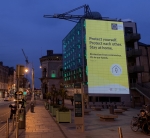 The Covid-19 pandemic, and the lockdown which has come with it, is an historic moment in the life of our city. As a result, Dublin City Library and Archive are eager to collect material that documents the experience of our city and those that reside within it.
We know our city is made up of many people, having many different experiences at this time, and everyone's experience is valid, so if you're happy to share it, please do!
In gathering material relating to a cross section of Dublin society at this time, we can ensure that our archive represents a true picture of how our city and its people fared during the pandemic.
There are many ways that you can contribute to this collection of material- you can write us a letter or a postcard, or send us an email. You can send us any photographs or pictures that you feel represent your experience of the pandemic or lockdown. You can send us an account of a day in your life at the moment, and tell us how things have changed. Or, if you have any other unique, contemporaneous records or items that you believe are relevant to how our city responded to Covid-19, please do get in touch with us about donating them. We would ask you to fill out a short online donation form and to submit this with your donations. You can find it below.  This will allow us to record the provenance of the material, and to contact you with any queries.
Once we have received this material we will review it, and records which are accessioned will be preserved and stored in our archive strong rooms. When material has been fully catalogued, it will be made available to the public for consultation in the Dublin City Library and Archive Reading Room, where doing so would be in-keeping with data protection regulations. A closure period of 100 years will be applied to any records containing personal data. Intellectual copyright will rest with the creator. The terms of the Copyright and Related Acts (2000) will apply allowing DCLA to provide photocopies of material for research purposes only. Researchers wishing to publish will be obliged to write to the donor for permission to do so.
If you're interested in taking a look at some of the other momentous events in history documented through our collections at Dublin City Library and Archives, why not take a look at our North Strand Bombing collections.