A Dublin Eye - The Stafford Image Collection
Published on 4th November 2015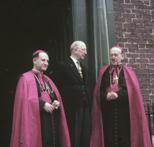 This image gallery shows a selection from the photographs and slides of the amateur photographer, William Stafford.  He took most of these pictures during the 1950s, 60s and 70s. The collection contains a great variety of images, from the imposing form of Queen Victoria in the days after she was moved from her plinth outside Leinster House, to the derelict courts and alleys of the mid-20th century city. There are images here of Nelson's Pillar just after the explosion of March 1966, the old Queen's Theatre, of flower sellers and fishmongers and street urchins. Many of the places he photographed,  such as Hospital Lane in Islandbridge, have now disappeared or  have changed beyond recognition. There are also images of the family business; the Stafford brothers started out importing  coal and salt to their works on Ormond Quay, eventually concentrating on salt importation and packaging.
The Stafford Collection material was retrieved by Jeremy Wales of the City Architects Division, and Charles Duggan, Heritage Officer, Dublin City Council, during clearance works to facilitate the development of the 'Dublin House' project at 29-30 Fishamble Street, the former home of William Stafford. Now held in Dublin City Library and Archive, it includes postcards, business and family papers and a large collection of religious ephemera. The siblings Angela and William appear to have been very religious, and one of their sisters, Cissie, became a Carmelite nun.
One of the most interesting parts of the collection is the photographic element.  On retrieval, the slides and prints had been left for years in unsuitable conditions, and were in very poor condition.  Apart from a little work on the colour slides, we have not done any restoration work on the images as yet, so the viewer will get a real sense of the years that this material lay neglected in the dark and damp house in Fishamble Street.
The main reason for publishing this gallery is to bring the images captured by William Stafford back into the light. We also hope that it will be seen by members of the extended Stafford family and that they will get back to us with more information on the fortunes of the family and especially on William, our photographer. Finally we are anxious to establish whether anyone has a claim to the material, and whether it can be made freely available to the people of Dublin, as we feel William Stafford would have liked.