Elizabeth O'Farrell and the 1916 Proclamation
Published on 27th May 2016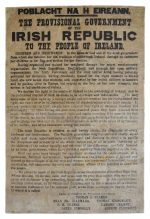 Dublin City Council holds an original 1916 Proclamation which belonged to Nurse Elizabeth O'Farrell and was kindly donated by her family.  This Proclamation has been conserved and is now on display in The Story of the Capital exhibition at City Hall. To commemorate the family's generosity, Dublin City Council held a seminar in the Council Chamber at City Hall on Monday 25 April 2016. We've recorded all three talks so you can listen back here if you missed this special event commemorating one of Ireland's most important documents and a truly remarkable woman.
Printing the 1916 Proclamation
Listen to City Archivist Mary Clark talk about the Proclamation, which was typeset and printed by William O'Brien, Michael Molloy and Christopher Brady and tell the story of how the original signatures were chewed to a pulp by Michael Molloy (not Christopher Brady as wrongly stated on Nationwide).
Listen back to Printing the 1916 Proclamation
Elizabeth O'Farrell, the woman with the white flag
Listen to Ian Kelly, grand-nephew of Elizabeth O'Farrell talk about his great-aunt Elizabeth O'Farrell, her role in the 1916 Rising, her work as a midwife in Holles Street and her legacy.  Listen to 'The Tricolour Ribbon' sung by Antoinette Heery (whose grand uncle James Heery was in the GPO with Elizabeth during the Rising) and to Ian reading Liam Mac Uistín's poem "We saw a vision". The talk is followed by Anne-Marie Kelly, Divisional Librarian at Dublin City Public Libraries, and a self-confessed Elizabeth O'Farrell fan, performing her original vignette 'Elizabeth Looks Back'.
Elizabeth O'Farrell, The woman with the white flag - Transcript
Listen back to Elizabeth O'Farrell, the woman with the white flag
Conserving the Proclamation
Listen to Elizabeth D'Arcy share the exciting and sometimes nerve-wracking story of how she conserved the Proclamation. Hear how she painstakingly removed sellotape, washed, repaired and strengthened this hugely important document.  Liz D'Arcy, Paperworks, Studio for Paper Conservation is qualified with an MA in Conservation of Fine Art on Paper. Liz is an accredited member of the 'Institute for Conservation of Historic and Artistic works in Ireland' (I.C.H.A.W.I) and a member of the 'Irish Professional Conservators and Restorers Association' (I.P.C.R.A).
Conserving the Proclamation transcript
Listen to the talk while following the presentation:
To view this, you must update your

Listen to Conserving the Proclamation