Father O'Flanagan's Suppressed Speech 1918
Published on 25th May 2018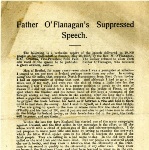 This flyer is an extract from a speech given by Fr. Michael O'Flanagan to 10,000 people at Ballyjamesduff, Co. Cavan on Sunday May 26, 1918. O'Flanagan mentions the arrest of De Valera, the suppression of Arthur Griffith's newspaper, and the 'poison-gas of lies' spun by 'the Little Welsh spider' (Prime Minister David Lloyd George) against the Irish people in the 'German Plot'.
Over 70 members of Sinn Féin had been arrested that month as part of this alleged plot. They were accused of conspiring with the German Empire to stage an armed rebellion in Ireland. O'Flanagan's clerical status exempted him from the round-up and in the second half of 1918 he operated as acting leader of Sinn Féin's political activities. The censor refused to allow even one word of the speech to be published, but it was later printed and distributed by Sinn Féin from their office at 6 Harcourt Street.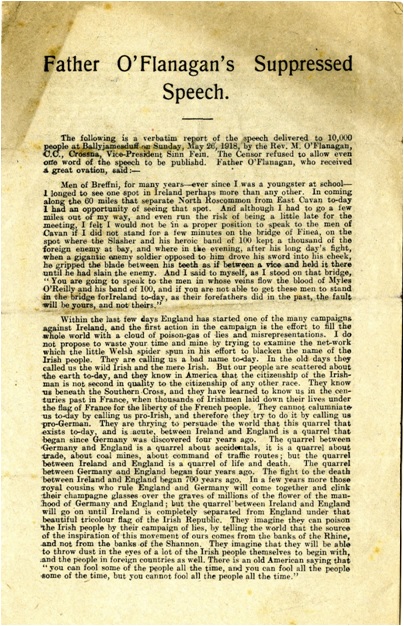 History Document of the Month
Every month the Dublin City Council Historians in Residence will be highlighting a document from Dublin City Public Libraries and Archives Digital Repository.  An image of the selected document will be on display in branch libraries during the month.
Historians in Residence are available to meet groups and schools, give talks, walks etc, run history book clubs and advise on historical research.