Free home study and reference resources
Published on 22nd January 2021
We have an excellent selection of online research and reference tools to suit all age groups: from primary school to university; from early years to life-long learning. So whether you're looking for trusted and reliable resources to help with home study or with projects and assignments, or if you simply want the opportunity to browse at your leisure through reliable and authoritative sources on a wide range of topics, we have something here for you. 
In this blog, we'll take a look at five selected resources. To access most of the resources outlined here, you'll need to have your library card at hand. Simply enter your library card number where indicated (usually to the top or the left of the screen), and select Dublin City Libraries if an option is given.
Very Short Introductions is a collection of over 600 books from Oxford University Press covering a range of subjects in the Arts, Law, Medicine, Sciences and Social Sciences, from Abolition to Zionism and everything in between. These digital books provide intelligent and concise introductions to a range of subjects (most are less than 200 pages long), combining fact, analysis, new ideas, and an enthusiasm to make challenging topics comprehensible and highly readable.  
World Book Online offers an immersive learning experience for every learner at every level. When you need fast, reliable information for homework, projects or reports, or if you simply have a lingering question that needs an answer, World Book Online is the place to go. Explore three of the access points we provide to this resource as follows:
Early Learning is a resource for pre-schoolers and children in early primary education, and was developed with the help of experts in early childhood education. It's bright, colourful, a pleasure to explore, and it's full of fun tasks and activities.
Kids is an excellent reference resource developed especially for primary school children. It's easy to navigate, and it features thousands of easy-to-read articles packed with stunning illustrations, videos, interactive maps, and a wealth of engaging games and activities.
Student is an engaging and trustworthy digital resource catering to secondary school student. It features thousands of articles and a variety of multimedia to engage young people in an immersive learning experience.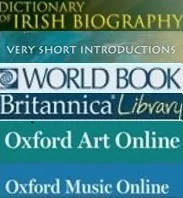 First published in1768, Encyclopædia Britannica is the oldest English-language general encyclopaedia. The entries are compiled by outside experts as well as their own team of editors with expertise in the relevant subject areas. The entries are fact-checked, edited and copy edited to ensure high standards of readability, reliability and accuracy. Existing articles are also revised and updated on a regular basis to reflect new developments in those areas of knowledge.
Different age groups with different reference and research needs are catered to as follows:
For ages 18+    Encyclopaedia Britannica from Home.
For ages 12 – 18   Britannica Student from your Home.
For ages 5 – 11     Britannica Junior from your Home.
 
Oxford Art Online gives access to an authoritative, inclusive, and easily searchable array of online art resources. Through a single gateway, library members can access and cross-search a number of acclaimed and regularly updated art reference works including The Grove Dictionary of Art and The Benezit Dictionary of Artists. Grove Art is an art encyclopedia which offers global coverage of visual culture, and it features content from thousands of scholars and specialists around the world. Benezit offers unique information about the sale and collection of artists' work, and it has one of the most comprehensive databases of artists' biographies available. In addition, this resource allows users to search a number of other art reference titles including The Encyclopedia of Aesthetics (2nd edition), The Oxford Companion to Western Art, and The Concise Oxford Dictionary of Art Terms.
Oxford Music Online contains 1,000s of authoritative, peer-reviewed articles with rich supporting materials including bibliographies, media, and links to related resources. It includes comprehensive coverage of music, musicians, music-making, and music scholarship as well as charting the diverse history and cultures of music around the globe. This resource offers our library members the ability to search multiple music reference resources in one location: with Grove Music Online as its cornerstone, Oxford Music Online provides access to The Oxford Companion to Music which includes articles on composers, performers, conductors, instruments and notation, forms and genres, and individual works; and to The Oxford Dictionary of Music 2nd edition with content geared toward undergraduates and general users.
Check out our website for a full list of all our online resources.
Don't have a library card? join here.
If you have queries or need any help, contact us at [email protected] and we'll get back to you as soon as possible.
Submitted by Reader Services at Cabra Library and Bibliographic Centre.