General Strike April 1920
Published on 28th April 2020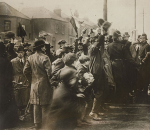 The general strike as a political weapon was used very effectively in Ireland on several occasions between 1918 to 1922. It was part of the successful resistance to the imposition of conscription in April 1918. One hundred years ago, on 12 April 1920, worked ceased all over the country, but especially in Dublin, as another general strike was called.
Several thousand republicans had been imprisoned in previous months, as part of the British government's response to events in the War of Independence. Over one hundred political prisoners were in Mountjoy Gaol in April 1920, when many of them decided to go on hunger strike in protest against the absence of formal charges against them. They were also angry that the authorities were breaching an agreement to treat them as prisoners-of-war rather than criminals.
At Mountjoy Gaol tens of thousands of people demonstrated outside for the release of the republican prisoners. Women were especially prominent in the demonstrations, many of them on their knees and praying for the hunger strikers. British army soldiers were posted behind the walls of the gaol, which were covered with barbed wire to prevent any attempt to break in and release the prisoners.  Soldiers were standing with bayonets fixed while Royal Air Force planes flew towards the crowd at rooftop height, to intimidate them.
The Irish trade unions - led by the Irish Transport and General Workers Union - organised a general strike in support of the hunger strikers and all the political prisoners. In many areas the strike committees took over the organisation of civic duties like food distribution and policing. After two days of general strike, on 12 and 13 April, the British authorities caved in and released all the republican prisoners. It was an effective demonstration of the general strike's use as a political weapon.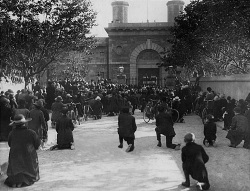 Sometimes economic and political demands could be mixed. On 17 April the dockers at the North Wall refused to load food for England. This action relieved the scarcity in Dublin, which was particularly bad in these years when large quantities were being shipped to Britain under the food control orders. In May 1920, railway workers began refusing to move British troops or military supplies in Ireland, restricting the military to the use of roads, which were constantly being trenched and blocked by IRA guerrillas. The boycott lasted until the end of the year, when the men were instructed to finish it to stave off the danger of retaliation by the state.
Want to spend this 'Stay At Home' time reading, or even studying more history? Why not try out some of Dublin City Libraries history resources, you can use them with your library card and everything is free:
BorrowBox has lots of history books including historical novels, non-fiction tomes and history audio books.
RBDigital app has history magazines like BBC History, Military History and the genealogy magazine Who Do You Think You Are. Browse and download over 43,000 old photographs, maps and documents and thousands of old photographs, maps and historical documents available free-of-charge on our digital repository and image galleries.
Find out the history and provenance of Dublin place names and monuments with the Historians in Residence live Facebook talks (https://www.facebook.com/DubHistorians) and online video lectures.
On the library blog you can read the historians' quick reads on topical subjects like the flu pandemic of 100 years ago, Molly Malone (did she really die of a fever?), when Dublin Telephonists challenged the government, and lots more.
Read the book of local history essays written by Dublin City Council's Historians in Residence History on Your Doorstep Volume 1. 
Dublin City Council's history on your doorstep programme brings this history & heritage to life.
There are 30 online history courses on Universal Class complete with assignments and a tutor, including the American Civil War, World Wars I and II, Ancient Civilisations, and economic history.
Keep in touch by following us on twitter at @histfest @dubhistorians
Mary Muldowney, Historian in Residence Dublin City Council, Central Area