A hat-trick of reads about travel and time
Published on 18th April 2023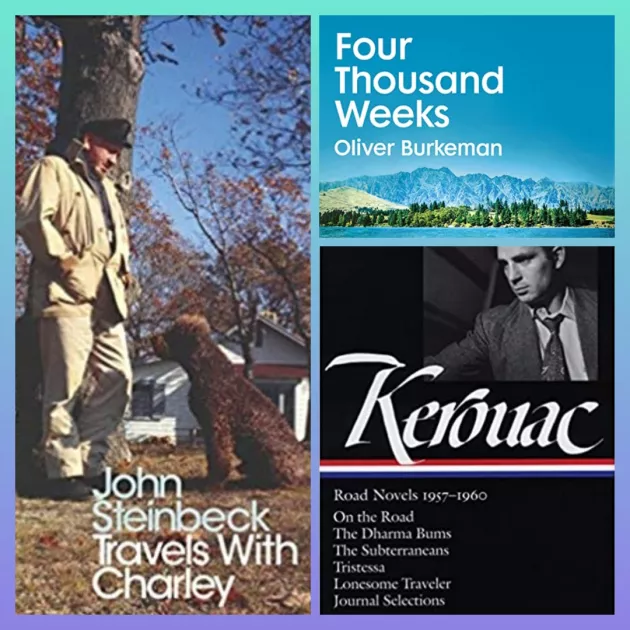 It's a pleasure to go from one satisfying read to another. It can happen when reading a series of books but to get three unrelated reads in a row is a rare and beautiful thing.
It happened to me recently when someone suggested I read, Dharma Bums by Jack Kerouac. To be honest I did try to read, On The Road, twice before but it just wouldn't click with me. This one however sucked me in and spat me out the other side wanting more. It's based on factual accounts of Kerouac's relationship and hiking expeditions with his friend Gary Snyder. 
Kerouac calls himself Ray Smith and renames Gary as Japhy Ryder. As you may have deciphered from the title Kerouac has recently been introduced to Buddhism by Gary and there are sporadic references to Buddisht wisdom. He talks in detail about his hiking gear, outdoor cooking, his family and how to wash up without using water. It's a refreshing tale of walking in nature before we had the luxury of Kevlar or Gortex!
I then happened to read Travels with Charley by John Steinbeck. Again I have to admit it's the only Steinbeck I've read so far. It is 1962 and Steinbeck decides he is going to go on a road trip across America. He has become a bit of a celebrity and he feels like he's lost touch with the American people. 
If you're a dog lover this will also charm you as his one companion on the trip is his standard Poodle Charley. He describes how he has a pickup truck customised into a neat little camper and names it Rocinante (named after Don Quixote's horse). The beautiful tales of one-off encounters with folk of varying classes and cultures weaves a fine account by a soul who has an achingly humane sense of people, animals, and the planet. It is a truly moving, entertaining and funny read.
So after those two books, I thought whatever I'm going to read after has to be a bit of a let-down. Someone ordered a copy of this book and I had to go and look for it. I was intrigued by the title: Four Thousand Weeks - Time and How to Use it by Oliver Burkeman. 
"Oh no", I immediately thought to myself, if I read this I'll just learn how I've already wasted a few thousand weeks (four thousand being the average life span of a human being). However…I read the first page and was hooked. The first sentence admits how we feel pressurised into, "living by a troublesome set of ideas of how we should be using our limited time."
He wittily reminds us how lucky we are not to be born two thousand years ago, and then takes us into a journey of the history of time, clocks and deep time (which I have now become fascinated by, and will elaborate on in my next blog). He also explains the philosophy of time in a simple and light-hearted way. 
This book really made a great impression on me. It was entertaining, informative, and uplifting. I feel good - now - about staring out the window, doing nothing!
Find these books on our catalogue.
Submitted by Eileen in Terenure Library.