Healthy Ireland at Your Library
Published on 23rd August 2022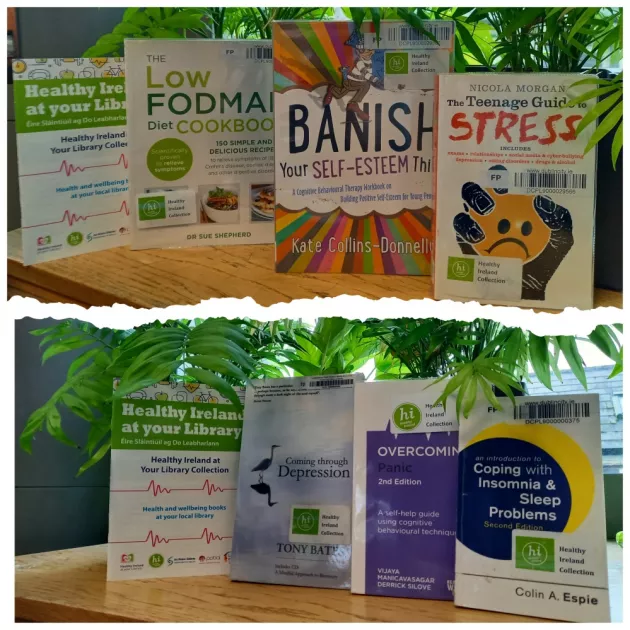 Healthy Ireland at Your Library is available in all local libraries across the country.
The programme aims to enhance current health information in public libraries by providing new books, e-books, e-audiobooks and e-magazines on health and well-being, a wider selection of health information for all users, and through a service delivered by trained library staff for this programme. Look out for special books collection, online health resources with a focus on physical health, mental health and health literacy.
Health information - Guidance on access to information
Books on Health and Well being: large collection of books on health and well-being
Online Health Information: eBooks, eAudiobooks and eMagazines
Programmes and Events: talks, discussions and workshops relating to various health and well being topics 
All of these services are available free of charge. Below is a suggested book list; ask library staff in any branch to direct you to the displays and shelves that showcase current items in stock or browse our online catalogue. 
Healthy Ireland Book List
Download the Book List (PDF, 1.57MB)
Healthy Eating     
The Plan by Aoife Hearne
Your middle years by Paula Mee and Kate O'Brien
Mental Health
Coming through depression by Tony Bates
An Introduction to Coping with Depression by Lee Brosan
An Introduction to Coping with Stress by Lee Brosan
The relaxation and stress reduction workbook by Martha Davis
Mind over mood: Change how you feel by changing the way you think by Christine A. Padesky Dennis Greenberger
An introduction to coping with sleeping problems by Colm Espie
Mindfulness for Beginners: Reclaiming the Present Moment-and Your Life by Jon Kabat-Zinn 
Assert Yourself by Gael Lindenfield
Mindfulness for Health: A practical guide to relieving pain, reducing stress and restoring wellbeing by Burch Vidyamala and Danny Penman
Alcohol
Easy Way to Control Alcohol by Allen Carr
The Illustrated Easy Way to Stop Drinking by Allen Carr and Bev Aisbett
Overcoming Alcohol Misuse by

Marcantonio Spada

Get your loved one sober: alternatives to nagging, pleading and threatening by Robert Meyers
Tobacco
Stop Smoking with Allen Carr [with audio disc)
Most natural and effective ways to quite smoking: Easy-to-do steps to end the cigarette habit forever by Allen Doe
Physical Activity     
Pilgrim paths in Ireland: A guide by John G. O'Dwyer    
Up and running: your 8-week plan to go from 0-5k and beyond and discover the life-changing power of running! by Julia Jones and Shauna Reid   
Parenting
The Incredible Years: A trouble-shooting guide for parents of children aged 2-8 years by C. Webster-Stratton