Hearts and Minds with Donal Ryan and Martin Dyar
Published on 6th April 2017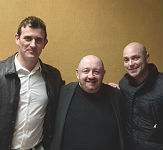 Booker-nominated novelist Donal Ryan and Patrick Kavanagh Award-winning poet Martin Dyar visited the Central Library on 2 March 2017 for a special evening of collaborative and interactive explorations of their work. Donal and Martin read from their own works and read excerpts from each others work in a special call and response format.
The two writers also discussed their writing process and the centrality of rural Ireland to their work, before answering questions from the audience.Part of the Contemporary Irish Literature Series in the Central Library.
Donal Ryan from Nenagh, Co. Tipperary is the author of the novels The Spinning Heart, The Thing About December, All We Shall Know and the short-story collection A Slanting of the Sun. The Spinning Heart won the Irish Book Awards, Book of the Year 2012, the Guardian First Book Award and the Dublin Book Festival Irish Book of the Decade. The Thing about December and All We Shall Know were shortlisted for the Irish Book Awards, novel of the year award.
Born in Sligo, Martin Dyar grew up in Swinford in County Mayo. A graduate of NUIG and TCD, his poetry has received a number of honours, including the Patrick Kavanagh Poetry Award in 2009, and the Strokestown International Poetry Award in 2001. In 2010 he was selected for the Poetry Ireland Introductions Series. He has also been a writer in residence at the International Writing Program at the University of Iowa. His debut collection, Maiden Names, published by Arlen House, was shortlisted for the 2014 Piggott Prize.
Hear more from the Contemporary Irish Literature Series
Award winning writer Sara Baume reads from and discusses her second novel A Line Made by Walking.
Danielle McLaughlin and Roisín O'Donnell read from their collections and discuss their creative writing process.
Thank-you for listening to the Dublin City Public Libraries and Archive Podcast. To hear more, please subscribe on iTunes or SoundCloud. You can also visit our website - dublincitypubliclibraries.ie and follow us on Twitter and Facebook.
Hearts and Minds with Donal Ryan and Martin Dyar