History Document of the Month: Lepracaun Cartoon Collection
Published on 13th May 2019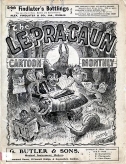 Britain faced similar issues ruling Ireland and India: both had to be held to maintain British international credibility and independence movements in both were driven in large part by religion.
Irish nationalists drew parallels between their own struggle and that in India, particularly the brutality of colonialism. The above below, from the satirical newspaper, The Lepracaun, compares British rule in the two countries: executions and burning of homesteads in Ireland, while India saw the brutal practice of execution by cannon, particularly associated with the British suppression of the rebellion of 1857. The cartoon is pointing out the dark side of British rule: the 'Upas Tree' of the title refers to a highly poisonous tree common to Asia, while the figure of John Bull piously reading the common book of prayer while surrounded by bones, death and destruction is an unsubtle reference to the hypocrisy of evangelical imperialism.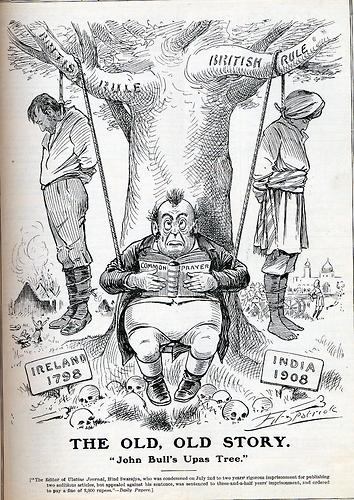 History Document of the Month
Every month the Dublin City Council Historians in Residence will be highlighting a document from Dublin City Public Libraries and Archives Digital Repository.  An image of the selected document will be on display in branch libraries during the month.
Historians in Residence are available to meet groups and schools, give talks, walks etc, run history book clubs and advise on historical research.