Published on 30th September 2021
Has Dublin Festival of History whet your appetite for history? Well look no further than your local library! We have lots of great history reads and resources for everyone, from the mildly curious to the practising historian. As well as our collection of books on the shelves, we have many online resources that will interest you.
So let's remind you of what's on offer... 
Read all about it...without leaving your house
BorrowBox: Take your pick from a selection of Irish and international history available as both eBooks and eAudiobooks.
Oxford Very Short Introductions: Expert authors combine facts, analysis, new insights, and enthusiasm to offer concise and original introductions to a wide range of subjects…and there's lots to interest history fans.
Digital Magazines: Download current and back issues of full colour magazines on Libby and Pressreader including BBC History, All About History and History Revealed.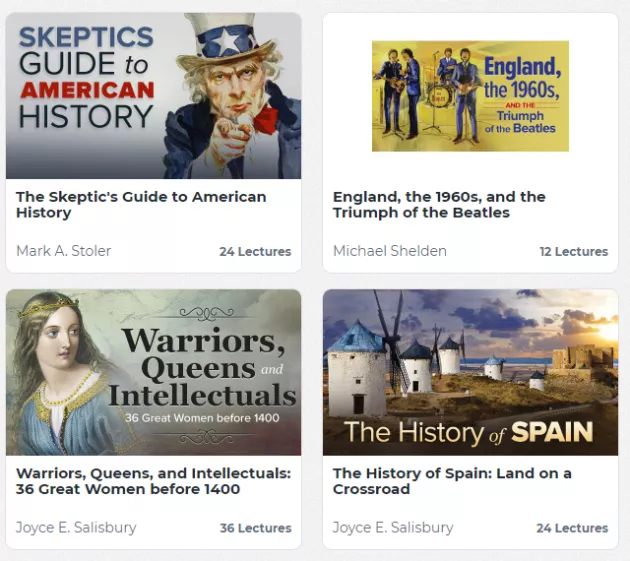 Learn more
The Great Courses Plus: Access over 60 college level history courses covering ancient to modern history and all without the essays!
Maybe you want to find out about the hidden history of 'Warriors, Queens and Intellectuals: 36 Great Women before 1400'. Or delve into subjects like 'The Irish Identity' or 'History's Greatest Military Blunders' from the comfort of your couch! You'll have lots to discuss when you next meet your history buff friends.
Listen and Watch
Listen to a wide range of talks, readings, lectures and performances which reflect the rich history and literature of Dublin city on Soundcloud or watch back on YouTube.
Delve into the Dublin Festival of History archives with this collection of podcast recordings from previous programmes. The most recent series, featuring recordings from the 2020 festival, premiered in March 2021. You can subscribe to the Dublin Festival of History podcast on Acast, or on your podcast app. 
Research it
Dublin City Library & Archive on DRI
You'll find some of our collections hosted on the Digital Repository of Ireland (DRI).  Here you'll find unique records relating to Dublin and Ireland from different time periods, including photographs, postcards, letters, maps and more. Highlights of the collection include the Fáilte Ireland Photographic Collection, the Jacobs Biscuit Factory Photographic Archive, and the Royal Dublin Fusiliers Association Archive.
Databases - databases.dublincity.ie
databases.dublincity.ie is a resource from the collections of Dublin City Libraries and Archives. The databases here are drawn from printed and other historic records related to Dublin city and surrounding areas. 
Researchers looking at the First World War will be interested in the letters in the Monica Roberts Collection. These first hand accounts reveal much about the real experience of Irish soldiers on the front. 
The Dublin Fire Brigade Ambulance log book provides a first hand account of the events of Easter week 1916. 
The Medieval Manuscripts and Ancient Freemen of Dublin (1461-1491, and 1564-1774) will take you back to Dublin's medieval history. Dublin City Electoral Lists 1908 -1915 can help with your family history search. The Index to Dublin City Council Minutes 1881 - 1987 reveal the workings of the city through a century. 
The Dublin Directory 1647 - 1706 is a good source for researchers of early modern Dublin. Where else would you find out that of the 13 ale-brewers listed in the Dublin Pipe Accounts, 1680, 7 were widows - the merry widows as I like to call them.
Database - JSTOR
The JSTOR Ireland Collection contains titles and resources across the arts, humanities, and sciences in disciplines such as music, art, history, literature, archaeology, mathematics, and biology. Materials span from the 1780s to the present.
Newspaper Archives
You can search these two digital archives on our library computers or using the wi-fi in your local library.
Irish Newspaper Archives: With the Irish Newspaper Archives you can search, retrieve and view newspapers from 1700s to the present - except for the last 10 days (dailies) or most recent issue (weeklies).
Irish Times Digital Archive: View, search and retrieve the entire Irish Times Digital Archive from the first edition of 1859 to the present (except for the last 7 days).
Trace your family history
As well as the online resources listed below, I'd recommend the Researching Your Family History series where Helen from the  Reading Room offers lots of tips and sources to further your search. 
Irish Genealogy
On Irish Genealogy you can view over 1.3 million Church records of Baptism, Marriage and Death free of charge. Of these, 734,000 Church records are from Dublin City and 600,000 records are from Kerry.
Find My Past
Find My Past offers a wide variety of sources that are not available online elsewhere. Here you will find the Irish Prison Registers, the Landed Estates Court records, the complete Griffith's Valuation, over 400,000 gravestones and church memorials, military records from the details of over 8,000 people involved in the 1798 Rebellion through to the names of more than 49,000 Irishmen who lost their lives fighting in World War I. You can also access over 250,000 obituaries and other newspaper notices, and lists of 52,600 individuals eligible to vote in elections between 1832 and 1838.
You need to have a DCL membership to use Find My Past. Please email your name and library card number to: [email protected] and we will get back to you with the login details.