Published on 31st August 2023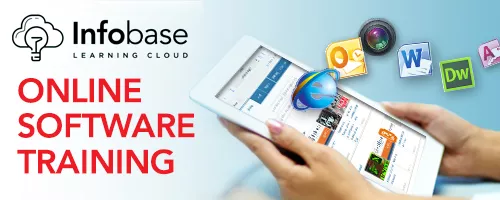 Have you tried Infobase Learning Cloud yet?  This free online learning resource will help you improve your I.T. skills and social media know.  It's available for free for all members of Dublin City Libraries. You can join the library by visiting any branch. 
So how does it work? Infobase Learning Cloud is a web-based repository of online, on demand, technology tutorials. It offers unlimited library member access to video-based software training on hundreds of common software applications and devices, including Microsoft Office, Zoom, Adobe Creative Suite, Google Docs, and iPad.
Each online training course is made up of short one-three minute video segments, helping you get the most out of their training. This learn-at-your-own-pace solution offers the flexibility to skip lessons that you are already familiar with and review lessons that prove more difficult. All training is online and on-demand, and there is no need to download software.
Something for Everyone: Whether you are looking to upskill for the jobs market or looking for tips to start using Zoom, gmail or an iPad. Whatever your level, you'll find something to suit your learning needs. 
Intuitive User Experience: For the novice or the experienced library member, all the major brands, versions, and specific functions are easily searched and found in one-to-three-minute training videos.
Solution for Immediate Needs: Training courses are current and relevant. Easy training sections are paced for quick comprehension and mastery of functional skills.
How to create an account
Register online at https://platformapi.learningcloud.infobase.com/register/dublincity 
The passcode is the word learn.
Now enter email and name and surname. You will then receive an email asking you to confirm your account.  In order to finish creating your account, you must check your email, click the confirmation link and then set your password.