Ireland and The Russian Revolutions (Podcast)
Published on 27th February 2018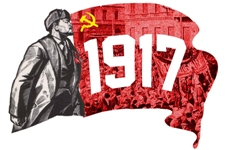 Last October Dublin City Archives marked the centenary of the Russian Revolution of 1917 with a series of lunchtime talks at Dublin City Hall. The talks curated by Francis Devine examined Ireland's political and cultural reaction to the Revolution.  Here you can listen back to two talks from the series. In the first, Donal Fallon examines witness statements from the Bureau of Military History, contemporary newspapers and ephemera to ascertain what the revolution meant to the Irish Left, the Trade Union movement, Sinn Féin and asks who were the Irish Bolsheviks? Then you can listen back to Dr Brian Hanley as he considers how initial support for the Russian Revolution changed to violent opposition to Communism in Ireland.
Organised by Dublin City Library & Archive, 138-144 Pearse Street Dublin 2. Courtesy of History.com
Ireland responds to the Russian Revolution
Backing the Bolsheviks with Donal Fallon, Historian-in-Residence, Dublin City Council. Recorded at Dublin City Hall on 10 October 2017.
Donal Fallon runs the Come here to me social history blog and is the author of John MacBride in the 16 Lives series, The Pillar: the life and afterlife of Nelson's Pillar and Come here to me! Dublin's other stories. He presented popular talks and tours as part of the Dublin Remembers 1916 programme and coordinated the My Area in 1916, Mo Cheantar agus 1916 project.
Red Scares and Rebels
Ireland and Communism 1917-1937 with Dr Brian Hanley.
Recorded at Dublin City Hall on 17 October 2017.
Dr Brian Hanley is a historian and author. His publications include The IRA : a documentary history 1916-2005 (2015), The lost revolution : the story of the official IRA and the workers' party (2009) and A Guide to Irish Military Heritage (2004).
Thank-you for listening to the Dublin City Libraries and Archive Podcast. To hear more, please subscribe on iTunes, SoundCloud, or your preferred podcast app.