The Irish Revolution 1917-1923 - Brian Hanley
Published on 13th September 2017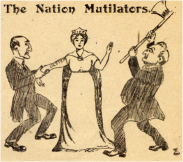 What happened in Ireland after the 1916 Rising? How did the political, economic and social landscape change and what brought about independence in 1922? Listen back to a three-part lecture series delivered by Brian Hanley Dublin City Council's Historians-in-Residence for Dublin City Library & Archive.
Lecture 1- Ireland in 1917
Lecture 2 - What was the War of Independence?
Lecture 3 - What was the Civil War?