Irish School Readers and Famous Folktales
Published on 9th May 2014
Post by Caroline Turner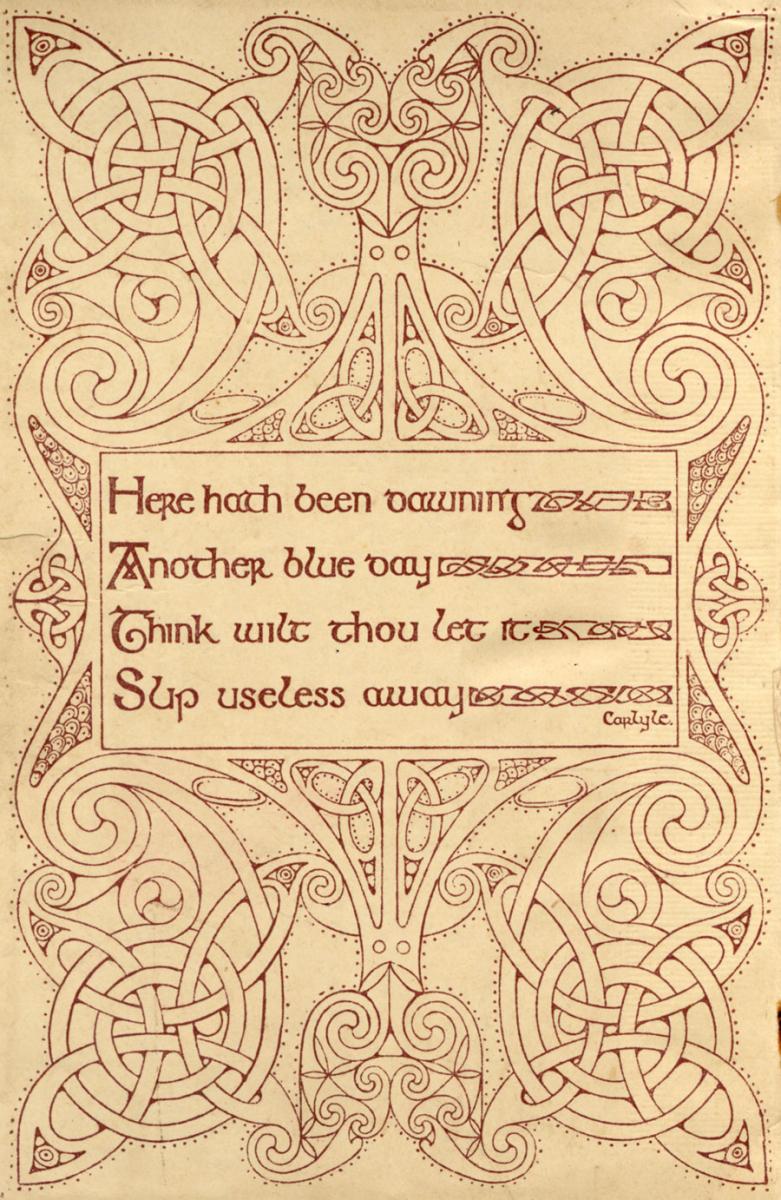 How do folktales and history intertwine? Pick up a school reader from the 1940s, 50s, or 60s in Ireland and you'll see. Every book from Reading Time, Fact and Fancy, The Educational Readers, The Emerald Readers to Young Ireland Readers presented folktales, and hundreds of these school books were donated to the Dublin City Library and Archives on Pearse Street.
Right: This is the inside cover of the book, 'The Educational Readers: Knowledge and Literature Intermediate Book.' The next page reads, 'The designs on the end papers of this book are based on the ornamentation and the lettering of the Book of Kells.' The quote is by Carlyle. (click image to enlarge)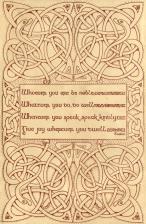 Left: Same book as above, but of the back cover of the book. The quote is by Ruskin. (click image to enlarge)
During my time here I have compared school readers' contents to those of Irish folktales from the 19th century. I have seen how important certain stories are to the Irish people, or at least which ones were still being taught a century later. These school readers present Irish folktales and legends in a way that is easy for young readers to understand. By including these popular tales, school children learned a lesson or uncovered a moral, while at the same time, learning to read. Even though school readers from this time did not go into great detail about a story, they did get to the main idea or point while still putting a lighter spin on perhaps the darker sides of folktales. I went through each of these donated school readers, chose a story, and tried to see how it varied, or perhaps was quite similar to folktales preserved by authors of the 19th century. Within the special folklore collection I chose to work with Irish Sagas and Folktales by Eileen O'Faolain, A Treasury of Irish Folklore by Padraic Colum, Fairy and Folktales of Ireland by W.B. Yeats, and Irish Fairy Tales by James Stephens.
Within Fairy and Folktales of Ireland, William Allingham wrote a poem called 'The Faeries'. He writes:
Is any man so daring,
As dig them up in spite,
He shall find their sharpest thorns,
In his bed at night.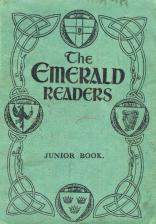 Right: The cover of the book 'The Emerald Readers: Junior Book'. Published by Alex Thom and Co., LTD. Crow Street, Dublin. (click image to enlarge)
Faeries were considered clever little men, and even though they may be poor, they live rich lives. Children would've understood Allingham's words because their readers taught them to not mess with the faeries or their land.
In Ireland School Readers: Preparatory Book, children learned about the Pooka, described as a great, black, ghost-horse who roamed the land after nightfall. In this tale, Malachy Dolan, the son of the local blacksmith, learns how to capture and tame the Pooka, saving his town. Yeats' explanation of the Pooka, and how it can take any form of animal spirit, shows how different regions of Ireland told various tales about their Pooka. Some other variations include The Kildare Pooka, by Patrick Kennedy, The Piper and the Puca, by Douglas Hyde, and my personal favourite, Daniel O'Rourke by T. Crofton Crocker, which tells the story of Daniel and how he fell asleep under the 'ould walls of carrigapooka' because he was very drunk and did not realize his surroundings. The Pooka turned his dreams into nightmares where he could not find his way home, teaching him a lesson about respect.
School children would have also read about the Leprechaun, a little man as tall as a pencil, some say a quarter in height, usually a shoemaker by trade. If one were able to sneak up on a leprechaun, such as young Peadar Riley, one could demand to know where he had hidden his crock of gold. In 'The Leprechaun' preserved in the Yeats collection, Allingham writes, 'Get him in sight, hold him tight, And you're a made man!' Leprechauns are greedy creatures who outsmart humans by throwing snuff in their faces and disappearing, leaving no trace. All of these mischievous creatures were created to teach children to be good, don't mess with magic and to respect the land.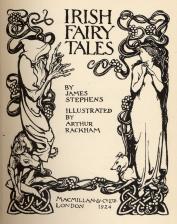 Left: The cover of the book 'Irish Fairy Tales' by James Stephens. Published by Macmillan and Co. Ltd. London, 1924. Illustrations by Arthur Rackham. (click image to enlarge)
Another popular school book of the time called Fact and Fancy: Junior contains the story 'The Boyhood of Fionn'. I compared this version to the one found in Irish Fairy Tales by James Stephens. The school story explains very few characters yet still manages to capture the essence of the tale. In Stephen's version, the reader see Fionn's entire childhood explained and each place he travelled along the way to adulthood. His mentor Finegas goes into detail about the Salmon of Knowledge and how the nuts of knowledge from the sacred bush fell off into the river where the salmon then ate them. There are even wonderful descriptions of Tara and The Feast of Samhain.
This version even asks questions, making the reader become more involved in the tale. 'Having eaten the Salmon of Knowledge, did Fionn know his fate going into battle?' This tale gives the reader beautiful imagery and wonderful language describing the difference between man and god.' And Aillen was not in his own world! He was in the world of men, where movement was not easy and the very air a burden.' Fionn, being both man and magic had the advantage and was deemed a true champion.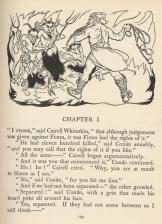 Right: This is a picture of grown up Fionn fighting enemies. Fionn is a famous hero in Irish folklore. Also in the book 'Irish Fairy Tales' by James Stephens. Also illustrated by Arthur Rackham. (click image to enlarge)
Going into this project, I was convinced the tales in the school readers and the 19th century preserved folktales would vary greatly, and I imagined the school readers would not contain the vast amount of folktales they did. Even though school tales were shortened, they held the same importance, and a moral or idea could be taken from each one. During my time at the Dublin City Library and Archives I learned about The Death of Cuchulain, The Shamrock, Saint Patrick and his journeys, Fionn, The magic of Tara, Faeries, Leprechauns, the Pooka, and many more. These tales have been passed down through the centuries and preserved by Irish authors that found value in them. If you ever wondered why Ireland takes such pride in their legends and myths, look to the older generation who more than likely to remember these tales, some from the school readers I picked up and read in 2014.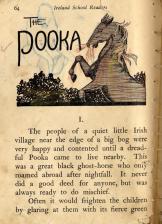 Left: From the book 'Ireland School Readers: Preparatory Book'. There is no cover to this book and is very fragile and old. This is from the story 'The Pooka' There is no author listed, but seems to have been published by Alex. Thom and Co. Ltd., Printers, Dublin. (click image to enlarge)
About our Guest Blogger
This project was completed by Caroline Turner, an intern at the Dublin City Library and Archives, as part of her M.Phil. in Public History and Cultural Heritage from Trinity College, Dublin. Folktales can reveal a culture's heritage and helps historians interpret the lives of people who may not have written down their histories in traditional ways. Folktales also contain morals that tell of the traditions of people, explaining how they lived. Caroline has been interested in ethnology and folklore from an early age and enjoys studying literature and cultural heritage.