Irish Women Artists and Modernism
Published on 13th May 2020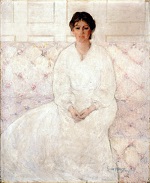 In this episode of the DCLA podcast, Jessica Fahy explores the fascinating connection between Irish women artists and the advent of modernism in Ireland from the early 20th century to the 1970s. Jessica talks about what Marian Hartigan called "The Quiet Revolution" which was the introduction of modern art to Ireland, almost exclusively by women. Jessica discusses their influences and how they reimagined and interpreted the artists and movements that inspired them.
As well as travelling abroad to develop their art, these innovative and generous group of artists, including Mary Swanzy, Manie Jellett and Sarah Purser, encouraged and created exhibition space for their Irish contemporaries.
Recorded at DLR LexIcon on 9 April 2018, with thanks to Marian Keyes, Dún Laoghaire-Rathdown Libraries for making this recording available to us.
List of artistic works mentioned in this talk:
Sarah Purser by Mary Swanzy
Eva Gonzalez by Manet
Homage to Manet by William Orpen (1909)
Maud Gonne by Sarah Purser (1890) Hugh Lane Gallery
Maud Gonne by Sarah Purser (1898) Hugh Lane Gallery
The Sad Girl by Sarah Purser (1923) National Gallery of Ireland
Landscape with Red Gable by Mary Swanzy (1929) Hugh Lane Gallery 
Samoan Scene by Mary Swanzy (c. 1923) Crawford Gallery
A Clown by Candlelight by Mary Swanzy
Still Life Flowers by May Guinness
The Cathedral by May Guinness
Margaret Clark nee Crilly
Reflections, China and Japan by William Orpen (1902)The Hugh Lane Gallery
Decoration by Manie Jellett  (1923) The National Gallery
Madonna and Child by Manie Jellett (1925)
The Madonna of Eire by Manie Jellett 
The Four Green Fields by Evie Hone
The Girl in White by Grace Henry (1912) The Hugh Lane
The Rosary by Grace Henry (19) 
Spanish Shawl by Louis le Brocquy (1941) 
Friday Fair by Nano Reid
Secret Pool by Nano Reid
By the Seafront by Norah McGuinness
Waves by Ann Madden
The Sails at the Carroll Company by Gerda Frommel
Where Eagles fly by Gretta O'Brien, Crawford Gallery
The City by Greta O'Brien, Crawford Gallery
Jessica Fahy is a freelance art historian based in Dublin, Ireland. Jessica has been teaching and researching various areas of European art for over 10 years and is passionate about sharing her love for the subject in an engaging and interactive way.
She teaches at UCD Adult education and the National Gallery of Ireland.
You can subscribe to the Dublin City Libraries and Archives podcast on Soundcloud, iTunes, Stitcher, Spotify or wherever you get your podcasts. This season is based on recordings from the 2018 Dublin: One City, One Book events. Dublin: One City, One Book is an award-winning Dublin City Council initiative, led by Dublin City Libraries and Dublin UNESCO City of Literature, that encourages everyone to read a particular book during the month of April every year. 2018's choice was 'The Long Gaze Back' which you can read on Borrowbox and of course you can order it from your favourite bookshop.
The Dublin: One City, One Book for 2020 is Tatty by Christine Dwyer Hickey, available electronically on our BorrowBox app and from your favourite bookseller.
Finally if you're interested in podcasts why not check out the Dublin Festival of History podcast which features recordings from the free annual event and the new City of Books podcast with Martina Devlin, the podcast for people who believe stories matter. And that you can never have too many books.