Isaac Newton invented the cat door and other facts about cats
Published on 17th June 2020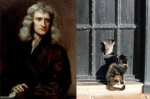 As a nation we are obsessed with our pets (in a good way of course) which explains why we love to talk about them. The cat is a domestic species of small carnivorous mammal. It is the only domesticated species in the family Felidae and is often referred to as the domestic cat to distinguish it from the wild members of the family.
The scientist is most famous for calculated gravity, but it's also believed that Isaac Newton invented the cat door. How Stuff Works writes that when Newton was working on his experiments at the University of Cambridge he was constantly interrupted by his cats scratching at the door. So he called the Cambridge carpenter to saw two holes in the door, one for the mother cat and one for her kittens! Apparently these holes can still be seen at the university today.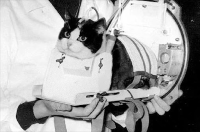 You've heard of monkeys and dogs in space, but did you know that a cat braved the great unknown too? On October 18th 1963 Felicette, also known as 'Astrocat' was the first and only cat to go to space.
Domestic cats are usually considered to be quite small and dainty creatures. But did you know the world's longest cat was a Maine Coon called Stewie, and was measured at 48.5 inches? Whereas, the record for the tallest cat belonged to Arcturus at a whopping 19.05 inches tall.
A house cat can reach speeds of up to 30mph. If you thought cats spent a lot of their lives sleeping, you'd be right. According to Veterinary Hub, Cats actually spend 70% of their lives sleeping, which works out to around 13-16 hours a day. It's a cat's life!
The richest cat in the world according to Guinness World Records is Blackie. When his millionaire owner passed away he refused to recognise his family in his will and instead gave his 7-million-pound fortune to Blackie!
This interesting fact about cats is guaranteed to wow. It was originally thought that Egyptians domesticated the cat but in 2004, French archaeologists discovered a 9,500 year old cat grave in Cyprus. This makes this the oldest known pet cat and it predates Egyptian art about cats by over 4,000 years!
According to Encyclopaedia Britannica, Herodotus wrote in 440BC that when a pet cat died in Ancient Egyptian times the family members would shave off their eyebrows in mourning.
This cat fact will really blow your mind. A study discovered that our little house cats share 95.6% of their genetic makeup with tigers! They also share a lot of the same behaviours such as scent and urine marking, prey stalking and pouncing.
Read the article, 'How smart is your cat',  in Pets magazine available on Libby.
Download Libby digital magazines or via the Libby app: Google Play - Android | iTunes - iOS