Jacob's Biscuit Factory, St John Ambulance and 1916
Published on 8th April 2016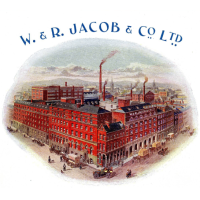 Jacob's Biscuit Factory on Bishop Street was one of the sites occupied by the Irish Volunteers during Easter Week, 1916, and has acquired iconic status within Irish history.   The Jacob's Biscuit Factory Archive has recently being catalogued and opened to public access in the Dublin City Library and Archive.  In conjunction with the Business Information Centre the exhibition "W&R Jacob and Easter Rising" will be open to the public from 13 April, with a talk by Dr Séamas Ó Maithiú on 21 April.
Right: Sketch of Bishop Street Factory, c.1900s, Jacobs Biscuit Factory Archive (DCLA) (View larger image)
Whilst researching how factory workers both participated in and were affected by the Rising in different ways, our guest blogger and Dublin City Archives intern Saffron East was enthralled by the dramatic witness account written by 35 year old  William George Smith,  an Assistant Manager at the factory,  which can be  accessed in the Manuscript Department of the National Library of Ireland.:
Jacob's Biscuit Factory, St John Ambulance and 1916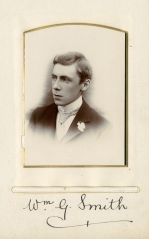 During Easter Week, many civilians were caught in the crossfire between the rebels and the British Army. St John Ambulance was an important organisation during the Rising, as it worked to organise emergency hospitals and medical care for civilian casualties across the city. William George Smith was a key member of the W&R Jacob Ambulance and Nursing Division of St John Ambulance and he kept an account of his personal experiences of Easter Week, which can be accessed in the Manuscript Department of the National Library of Ireland, and tells us the story of how the Rising impacted this extraordinary Dubliner.
Left: Portrait photo of William G. Smyth, Jacobs Biscuit Factory Archive (DCLA) (click to view larger image)
Easter Monday, 24 April 1916, began as an ordinary day for William Smith, as he took his sons on the tram to spend some time in Merrion Square during their Easter holidays. On the tram, Smith writes that they overheard other passengers speaking of 'trouble in Dublin and that the Sinn Fein volunteers were causing commotion.' Smith enquired with the tram driver, who did not know much as the trams had not been allowed into the city centre, but said that 'he heard the Volunteers were rising.' Smith and his boys 'thought that it was probably only an ordinary riot which the police would soon quell' so continued their journey. Further disruption to the trams meant that the family had to walk home in the afternoon, where they ran into a friend of Smith's: a Four Courts officer of the St John's Ambulance Brigade, who explained 'that the Sinn Feiners had risen in rebellion and had captured Dublin Castle, the GPO, Four Courts, Boland's hill and some other places.'
The next day, Smith decided to cycle into the city to investigate. He travelled via Peter Street, where he saw Jacob's Biscuit Factory. He describes that 'everything there seemed peaceful in fact, unnaturally so for the street was deserted.' Smith cycled around the city, finding 'a large crowd assembled' near Redmond's Hill, and 'saw the windows of the General Office broken and filled with flour bags, behind which were men with rifles.' He described: 'The crowd seemed not generally to be showing much sympathy with the rebels, or were taking it rather as a joke.' Smith cycled to St Stephen's Green, finding the rebels 'digging trenches and barricading the place. Many of them were mere boys; in fact only about one in ten was a man; they had a great many young girls, ranging from about 13 to 20...'  On this Tuesday, William Smith witnessed his first casualty of the Rising, as he saw a civilian man shot by the rebels. He wrote that this 'was certainly a shock, because it was such a cold blooded affair to shoot down in this way an old unarmed civilian, and for a few minutes I felt decidedly upset.' Smith wrote that, later that day, 'one could hear the curious tap-tap of the machine guns, a sinister sound which one could never get wholly used to.'
On Wednesday, Smith began working on organising extra help within Dublin's hospitals, and creating emergency hospitals in new locations around the city. He also helped in the creation of an emergency ambulance service, where men travelled with stretchers to bring in wounded civilians. This was dangerous work, and many of these St John's Ambulance volunteers were wounded or killed in the crossfire. Smith recalled that he would 'never forget the dreadful wounds we had to look after that night... The constant rattle of rifle fire, the sound of bombs exploding.'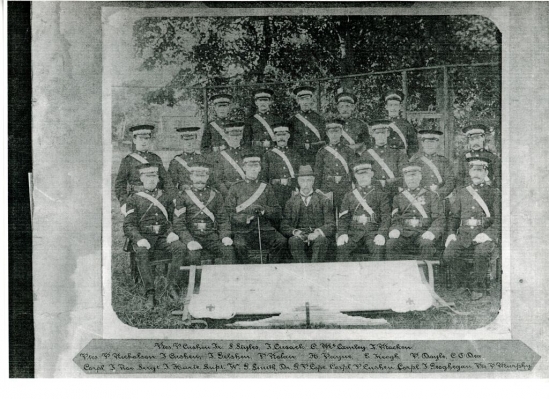 Above: W& R Jacob  Ambulance and Nursing Division, including Smyth (undated).  Jacobs Biscuit Factory Archive (DCLA) (click to view larger image)
Smith wrote that Thursday 'was the most miserable day I ever spent.' As well as organising ambulances, Smith arranged for moving wounded patients to different hospitals, as they were all overcrowded. On patrol for wounded civilians, Smith found that Mount Street was 'a very "hot spot" indeed... sufficient to say that for many days this district was a regular death trap to its inhabitants.' That afternoon, Smith opened a new hospital in a school, and had to beg the local hotels for bedding and furniture supplies. Friends provided food for this hospital, so the patients would not starve. This hospital became Smith's base for the rest of the rising. Smith wrote that he 'lost all count of time... It is difficult to recollect all the things one did during that dreadful time and the strange things one came across.' Smith witnessed many people 'digging graves to bury the dead, as they could not be disposed of otherwise.' He wrote that 'Stephen's Green had some dead buried in very shallow grave, for I saw in one case boots sticking out of the soil' and that 'one doctor whom I knew had to bury an officer in his back garden, whose name he did not know and who had nothing on him by which he could be identified'.
Smith wrote of a near-disaster: 'the rebels got wind of our taking patients and the rumour spread amongst them that all patients were to be taken out of the hospital and the military were then to occupy it and attack the [Jacob's Biscuit] factory from that point. This they resolved to stop and brought up a machine gun... and were about to fire when MacDonagh, one of their leaders, came up and protested and finally they took a vote on the question and by a few votes decided not to fire and afterwards found out the truth of the matter.'
He also recounted the bravery of his peers, including one of his ambulance drivers who 'was shot through the thigh whilst driving a car full of wounded past the Four Courts, but he drove on until he reached the Castle Hospital, when he fell off his seat.'
William George Smith's account includes many more anecdotal stories of his experience of the Easter Rising. He writes of the resilience and bravery of many Dubliners who pulled together to make the limited hospital supplies work as best they could, and travelled around the city collecting the wounded despite the dangerous conditions.
The first ambulance class under the St. John Ambulance Association regulations was held in W&R Jacob in 1906, and throughout the twentieth century, the W&R Jacob Ambulance and Nursing Division of St John Ambulance attracted  employees of the factory to get involved with something practical and social in the workplace. Various records relating to their activities in the work place are held by Jacob's Biscuit Factory Archive  at Dublin City Library and Archive.  Additional records held by  St. John Ambulance Ireland National Headquarters.
About our Guest Blogger
This article was prepared by Saffron East as part of the internship program with the M.Phil in Public History and Cultural Heritage at Trinity College Dublin.