W & R Jacobs Archives at Dublin City Library and Archive
Published on 19th February 2016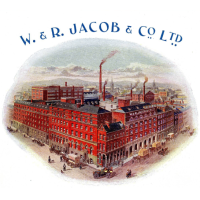 On Monday 22nd February 2016, a special tea party is being hosted by an tArdmhéara Críona Ní Dhálaigh at the Mansion House to mark the transfer by Valeo Foods of the archives of W & R Jacobs and the transfer of the Appleyard Collection by Douglas Appleyard to Dublin City Council.
The archives of W & R Jacob and Company, consisting of over 330 boxes, were acquired by Dublin City Library and Archive in 2012. Following a major cataloguing project they will now be opened for public access in the Reading Room of Dublin City Library and Archive at 138-144 Pearse Street, Dublin 2.
View a sneak preview of some of the records relating to the Easter Rising of 1916 and the occupation of the factory.
Members of the public who apply for a researcher's card at Dublin City Library and Archive will be able to view our extensive database listing all items in collection and request access to original items in the Reading Room. Access to Human Resource records will be in accordance with Data Protection Legislation.
The richness and diversity of the collection is likely to generate significant public interest. It includes a wide range of corporate records, relating to over 150 years of biscuit making, including recipes dating from the 1880s. It contains a wealth of colourful marketing and advertisement material from mock-ups of packaging, sample tins, brochures, posters, and television and radio commercials. Links with the world of sport and celebrity have been uncovered with records relating to W & R Jacob's long-term sponsorship of soccer and the Irish Radio and Television Awards. However, it is the rich tapestry of social history which emerges from the collection which will most resonate with researchers and the general public. Thousands of Dubliners were employed by W & R Jacob between 1851 and 2009, and the collection provides insight into the working lives and living conditions of those that were employed by the firm.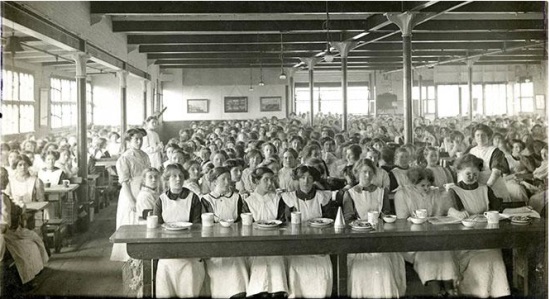 Above: Jacob's workers at lunch.
Future Events associated with the Jacob's Archive
In April 2016, as part of the Dublin City Council 2016 Program, an exhibition on "W & R Jacobs's and the Easter Rising" will be launched in the Business Library at the Ilac Shopping Centre, drawing on newly uncovered items in the collection. It will include the eye-witness statement of Henry Fitzgerald, a watchman in the factory who was taken prisoner during Easter Week. Dr. Séamus Ó Maitiú will deliver a lecture on the same topic on April 19th 2016 as part of the popular lunch-time Dublin City Hall Lecture Series organised by Dublin City Archives.
We are also keen to animate this important collection and bring it to a wide audience over the next year. A major exhibition about all aspects of W &R Jacobs will be launched in November 2016 at Dublin City Library and Archive and plans are underway to digitise and publish online the 3,000 photographs within the collection.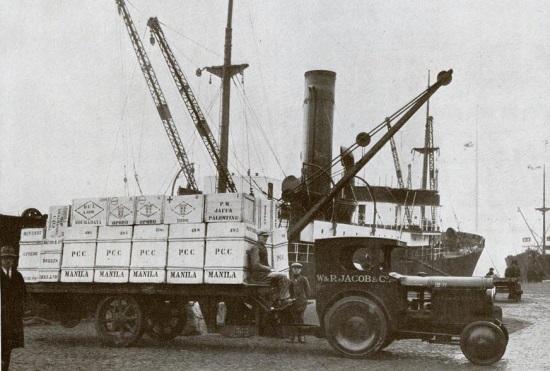 Above: Jacobs' Biscuits being brought to the Port of Dublin for export, 1926. (Image is taken from The Port of Dublin, Official Handbook (Dublin, Wilson Hartnell, 1926)).