John O'Grady (1889 - 1916) & the Jacob's Garrison
Published on 31st January 2018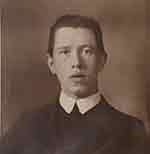 John O'Grady was a member of A Company, 3rd Battalion, Dublin Brigade of the Irish Volunteers. He was the only volunteer from the Jacob's Factory Garrison killed in action during the 1916 Rising.
Last year we were honoured to welcome Dermot Hogan, a relative of John O'Grady to our Reading Room, and he kindly showed us some of the 1916 memorabilia carefully preserved by the family for over 100 years. Pictured below is the 1916 medal awarded to John by the President of Ireland. The 1916 Medal is awarded to persons with recognised military service during the 1916 Rising. The medal is bronze and it depicts the death scene of Cú Chulainn, surrounded by a circle of flames. The reverse is inscribed "Seachtain na Cásca 1916 John O'Grady".
John's brother Charles was also a Volunteer and was involved in fighting in the South Dublin Union. Returning to the family residence on Nicholas Place following the Rising Charles met with a neighbour who sympathised with him on the death of his brother. Until that moment Charles had not been aware of his brother's fate.
Here Dermot tells the story of the night of 29 April 1916 when John O'Grady died.
There is a memorial to John O'Grady in St James Graveyard where he is buried. The old St James' Church is now the Pearse Lyons Distillery.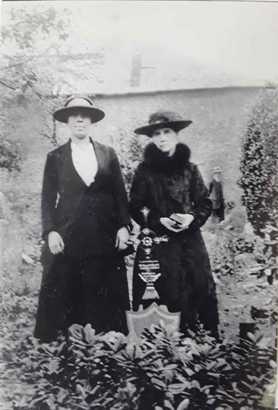 Image: John O'Grady's wife Josephine O'Grady (née Gray) and mother Ellen O'Grady at his grave at St James' Church, Thomas Street. Photo: Dermot Hogan.
Further reading
Murphy, Sean J. 1916 Rebel John J O'Grady Buried in St James's Graveyard, Dublin. https://ucd.academia.edu/SeanMurphy.
Jacob's Biscuit Factory and the 1916 Rising. Lisa McCarthy, Eneclann, Project Contract Archivist.