Ladies' Fashion at the Turn of the 20th Century
Published on 13th December 2022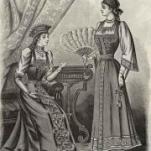 A vital aspect of fashion is its relationship to society at large. In recent years this has become considerably more complex. Everyday life is influenced by what people do, what they say, and more importantly what they wear. The clothes we are seen in say a great deal about ourselves than many may realize, and that in fact we are presenting a statement to the world. Without uttering a sound we are giving out clues about our social background, economic status, general likes and dislikes, and moreover how we view ourselves. Fashion is tied to society in more than one way: it is produced out of economic, political, and technological conditions as well as shaped by the social and cultural aspects that surround us in everyday life.
This collection on Ladies' Fashion at the turn of the 20th Century holds an arrangement of images dating from as far back as 1891 to as recent as 1913. Each image provides a glimpse into the statements that women were making during times of innovation, progression, and change. From advertisements about the newest corset to wear, to portraits of high societal women sporting their finest ensembles, these images can be looked upon with adoration, inspiration, and most of all respect.
All of the images shown have been taken from the very popular ladies' periodical The Lady of the House, which was published in Ireland. It was produced between the years of 1880 and 1924 when it joined with The Irish Tatler and Sketch. The periodical itself was known for its high quality illustrations, photographs and prints. While it focused mainly on beauty and "at home" matters, the periodical also published economic, political, and societal pieces. Overall, The Lady of the House provides worthwhile awareness to Ireland's society during the late 19th and early 20th century.
This gallery has been created, compiled, and completed by Michael Lauren Kisha, Undergraduate at Boston University, Boston, MA, USA, Class of 2013; European History major.