Launch of Richmond Barracks 1916: We were there - photos
Published on 10th March 2016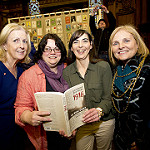 The Lord Mayor of Dublin, Críona Ní Dhálaigh, launched the book 'Richmond Barracks 1916: We were there, 77 women of the Easter Rising' to a packed audience at the Chapel, Royal Hospital Kilmainham, Dublin 8, on International Women's Day, Tuesday, 8 March 2016.   This new publication gives voice to the 77 women who were arrested and held at Richmond Barracks following the Easter Rising. A leather bound edition of the book was presented to President Higgins and Lord Mayor Críona Ní Dhálaigh. The audience was entertained by an instrumental performance by Cora Venus Lunny and and Kate Ellis, poetry recitals by Jo Kennedy and Jane Clarke and Damien Dempsey singing Aunt Jennie.
The 77 Women Commemoration Quilt was also unveiled at the event. This unique quilt commemorates the 77 women arrested after the Easter Rising and forms a link to the present through the 77 contemporary women who crafted each special panel.
Lord Mayor Críona Ní Dhálaigh said:
This excellent book, We were There, 77 Women  of the Easter Rising, shines a light on the women of the rising and in many ways unfreezes them, it shows their legacy of activism, in labour, nationalist and feminist politics. The legacy that many of us, women from all our different backgrounds have taken up.