Published on 10th November 2017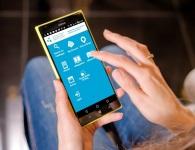 We are delighted to announce the availability of our free mobile app for Android and iOS devices. With our library app on your mobile device you'll have a quick and convenient way of
searching the library catalogue,
accessing and managing your library account,
reserving and renewing items,
locating your nearest branch library and its opening hours,
viewing a list of upcoming library events,
downloading eBooks, eAudiobooks, eMagazines, eComics and eGraphic novels, and
accessing a wealth of online resources courtesy of your library membership.
The app is available from both the Google Play store and the iTunes App store.  So get downloading now!
View the slideshow tour of the app below while referencing the guide on the right.

 

1. The Library App Interface! Login via 'My Account'.
2. Login with your borrower number & PIN.
3. Check the status of your loans & reservations. 'Notifications' refers to those from the app, not from the library.
4. View a list of your current loans, Renew option available.
5. Search the Catalogue
6. Enter author, title, keyword
7. View, search results, select title.
8. Check title location and availability. Reserve option available.
9. Scan barcode option.
10. See a book outside of the library and want to know if we have it? Scan the barcode and find catalogue record & list of locations
11. Find a Library
12. List of libraries ordered according to their proximity to your current location (requires your device's location to be 'On')
13. View list of services provided by your local library.
14. View opening hours, map and directions from your current location. Also note contact details.
15. Access the wide range of eResources available courtesy of your library service. Visit http://www.dublincity.ie/library-eresources for more information.
16. Access the wide range of eResources available in-house and remotely courtesy of your library service.
17. When in the library, you can access the online resources only available in-house.
18. Download eBooks and eAudiobooks which you can access via your BorrowBox account. Also now graphic novels via Comics Plus!
19. Read eMagazines which you can access via your RBdigital account. Also now digital comics via Comics Plus!
20. You are one click away from a list of all the events in our libraries.
21. View the listing of events in our libraries, filter by location or event type.
22. We're on social media too! And we have our very own blog!
23. Access to our various social media sites, plus the library blog for news, reading suggestions and so much more!
Use the app on your Android tablet, iPad, or smartphone! (click to view larger image)

Download the App:
Or search either store for "Dublin libraries".