Looking Forward Gazing Back
Published on 29th April 2020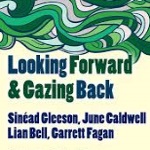 In this episode of the DCLA podcast, Looking Forward, Gazing Back, writers June Caldwell and Sinéad Gleeson and theatre maker and campaigner Lian Bell of #WakingTheFeminists movement discuss the practices, processes and contexts of Irish women's writing today.  Chaired by Garret Fagan. Recorded at the National Library of Ireland on 21 April 2018, thanks to National Library of Ireland for making this audio available to us.
June Caldwell's acclaimed collection of short stories Room Little Darker, was published in 2017. She is a prizewinner of the Moth International Short Story Prize. Her first novel, Little Town Moone, was published in 2019.
Lian Bell works as a set designer, cultural project manager, and artistic collaborator. She was Campaign Director of #WakingTheFeminists, the highly successful one-year grassroots campaign for equality for women in Irish theatre. 
Sinéad Gleeson's debut collection of essays: Constellations: Reflections from Life was published in April 2019 by Picador. She is the editor of The Long Gaze Back and The Glass Shore, two anthologies of stories by Irish women writers. She is currently working on a novel. 
Garrett Fagan works for UCD Adult Education and Dublin UNESCO City of Literature.
You can subscribe to the Dublin City Libraries and Archives podcast on Soundcloud, iTunes, Stitcher, Spotify or wherever you get your podcasts. This season is based on recordings from the 2018 Dublin: One City, One Book events. Dublin: One City, One Book is an award-winning Dublin City Council initiative, led by Dublin City Libraries and Dublin UNESCO City of Literature, that encourages everyone to read a particular book during the month of April every year. 2018's choice was 'The Long Gaze Back' which you can read on Borrowbox and of course you can order it from your favourite bookshop.
The Dublin: One City, One Book for 2020 is Tatty by Christine Dwyer Hickey, available electronically on our BorrowBox app and from your favourite bookseller.
Finally if you're interested in podcasts why not check out the Dublin Festival of History podcast which features recordings from the free annual event and the new City of Books podcast with Martina Devlin, the podcast for people who believe stories matter. And that you can never have too many books.
Looking Forward, Gazing Back