Mad for murder, recommended crime thrillers
Published on 31st May 2022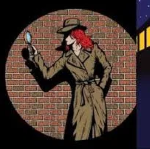 You only have to look at mainstream TV listings or Netflix's new-in section to see that the nation's obsession with true crime and crime drama isn't going anywhere. So, in all, the fascination for crime thrillers stems from the thrill of the vicarious entertainment and the intellectual rush of participating in a mystery that you almost feel you have helped unravel, apart from a deeper understanding of what makes the human mind function, soar, click or break.
Searching on our new online catalogue has never been easier with a container called New Crime Fiction holding 110 new titles (at the time of writing). So you don't need to do any work and can stock up on your favourite book, add them to you TBR pile - and that includes Large Print and audio. 
All you need is your Dublin City Library card and PIN. If you are not living in Dublin please find your library's online catalogue here. 
Access eBooks/eAudiobooks on your phone, tablet or reader. Once you have installed the app, search for Dublin in the 'Library' field provided and then sign in using your library membership card number and PIN. Watch our how to video on Borrowbox. Members of other library authorities will need to log in using a different link.
Here are a few titles that grabbed my attention, I prefer Large Print now as my eyesight isn't what it used to be and am a fan of the Icelandic thriller. I'm trying out a few audio books on my commute but you can browse and look for titles that you prefer. 
The Darkness Knows by Arnaldur Indriðason. 
Large Print
When the Stars go Dark by McLain, Paula
Anna Hart is a seasoned missing persons detective living in San Francisco. When unspeakable tragedy strikes, she turns to the Californian village of Mendocino to grieve. Seeking comfort in the chocolate-box village she grew up in, Anna instead arrives to news that a local girl has gone missing. The crime feels frighteningly reminiscent of a crucial time in Anna's childhood, when an unsolved murder changed the community forever. As past and present collide, Anna is forced to confront the darkest side of human nature.
The River Mouth by Herbert, Karen
Audiobooks
Ten years ago, fifteen-year-old Darren Davies was shot dead at the river mouth. The killer was never found. Now, Darren's mother Sandra receives a visit from the police. Her best friend Barbara Russell has also been found dead, out in the bush.
Sunset swing by Celestin, Ray
Audiobooks
Los Angeles. Christmas, 1967. A young nurse, Kerry Gaudet, travels to the City of Angels desperate to find her missing brother, fearing that something terrible has happened to him: a serial killer is terrorising the city, picking victims at random, and Kerry has precious few leads. 
Murder on the Orient Express and Five Little Pigs by Agatha Christie. 
Book. Also available as eBook and eAudiobook
Enjoy plot twists, poisonings and Poiret in these two classics by Agatha Christie. 
Also let's consider the books that are there to be read and re-read in the ten best crime novels of the decade! 
Some new trends for the die-hard crime fiction fans.
the remarkable rise of the psychological thriller heralds a shift from "stranger danger" thrillers to acknowledging that harm often lurks at home (or at work). 
there are fewer cops and pros solving crimes, and more amateurs and Hitchcock-style every-people thrust into investigations of everyday mysteries. 
traditional mysteries are back—and they're being read by millennials. 
crime and mystery books are increasingly global, activist, female, diverse, and hard to pigeonhole into any particular subgenre.
Happy Browsing! Get a library card.
If you have any library-related problems please us the helpdesk: [email protected]