Muckross Hockey Club celebrates 100 years
Published on 13th December 2017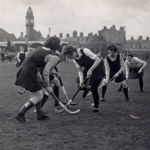 Muckross Hockey Club was founded in 1917 by the past pupils of Muckross Park College. Over the past 100 years it has won over 30 Leinster league titles, an unparalleled 29 Leinster Senior Jacqui Potter Cup wins, a strong representation at international and provincial level and a record seven past players inducted into the Irish Hockey Association Hall of Fame.
The Muckross Hockey Club collection comprises 70 photographs including material donated via international player Joan Priestman. It was transferred to the Dublin City Sports Archive via Peter Agnew and the Irish Hockey Archive.
The photographs were digitised and catalogued by Library Assistant, Finola Frawley.
To hear more about the history of Muckross Hockey Club listen to Off the Bench podcast's "When we were Queens" episode.
The Dublin City Sports Archive was established by Dublin City Library and Archive in September 2010 to provide a lasting legacy to Dublin's term as European Capital of Sport.   It aims to collect, preserve and make accessible to the public, records relating to sports events, clubs, sporting organisations, and records of sporting individuals, fans and players. The Dublin City Sports Archive ensures that records which reflect the rich sporting heritage of our city and county are given a permanent and secure home.