Music Lending, a smash hit at Pearse Street Library
Published on 24th September 2019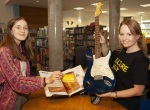 Instrument Carousel - a partnership between Girls Rock Dublin and Dublin City Libraries was a smash hit with all the teenagers in Pearse Library on Culture Night last Friday. Instrument Carousel was an opportunity for participants to explore their musical potential.
It marks the launch of the "GRD Gear Library", the gear loan service designed for teenagers by Girls Rock Dublin & Dublin City Libraries. Sixteen teenagers took over the Library in a fun & loud experiment involving electric guitars, basses, synths, keyboards & drums. By moving through different rooms and engaging with GRD coaches, participants learned a song on each instrument, and finished by performing the song together.
Girls Rock Dublin is a non-profit, volunteer-led organisation that builds girls' self-esteem through music creation and performance. Providing workshops and technical training, GRD creates leadership opportunities, cultivates a supportive community of peers and mentors, and encourages social change and the development of life skills. ​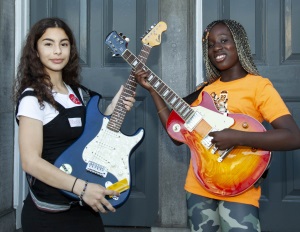 From Culture Night any teenager who is a member of Dublin City Libraries can borrow their preferred instrument for three weeks. All you need is your library card!
Teenagers will need the signature of a parent or guardian when completing the membership form. Their parent or guardian will need to bring photo I.D. and proof of address. Get access to great online resources, borrow books, DVDs and now musical instruments! There are no fines and you can use your card in any library in Ireland.    
Joining is easy. Call into Pearse Street library and borrow what you like.
The GRD Gear Library is a collection of  instruments, amplifiers and musical accessories that Girls Rock Dublin are now making available through Dublin City Libraries all year round.     
The collection is made up of donated gear from people in the community who value the work of Girls Rock Dublin and from purchases made from funding received with thanks to ​Reverb.com​. GRD Gear Library also welcome donations of 'gear'.
The library is an ongoing project, more pics from Culture Night 2019 on flickr. Dublin City Libraries are free,fun and easy to use. Find out more.