Published on 15th April 2020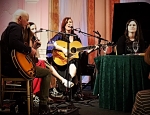 In this episode of the Dublin City Libraries and Archives podcast Lia Mills talks to Sinéad Gleeson, Alan Hayes, Rob Doyle and Eimear Ryan about all things anthology. How do you start to compile an anthology? What do you need to think about (before and during)? Who do you include or exclude – and how do you handle the fallout?
Following their discussion, Lia asks Sinéad, Rob, Eimear, Alan and Farmleigh writer-in-residence Philip St John, to read from their favourite short stories and to briefly outline why they resonate with them.
You will also hear some beautiful music by Ciara Sidine accompanied by Conor Brady and Ciara's daughters Ava and Romy.  
The full panel were:
Singer/songwriter Ciara Sidine (Shadow Road Shining, Unbroken Line) performs Finest Flower, Trouble Come Find Me, Watching the Dark and Little Bird Song.  As Ciara Considine, she is also a long-established literary editor with several anthologies to her credit.
Conor Brady is one of Ireland's finest guitar players. He has recorded with Terence Trent D'Arby and Toots and Maytals.
Lia Mills writes novels (Another Alice, Nothing Simple, and Fallen, which was the Dublin: One City One Book title for 2016) short stories and essays. 
Sinéad Gleeson is the editor of The Long Gaze Back and The Glass Shore, two anthologies of stories by Irish women writers. Sinead's collection of essays Constellations was published in 2019 by Picador. 
Alan Hayes is publisher and editor at Arlen House – a press with a long history of supporting and promoting work by women. 
Rob Doyle is a novelist (Threshold, Here are the Young Men and This is the Ritual) who has also edited the anthology The Other Irish Tradition, from Dalkey Archive Press. 
Eimear Ryan is a writer and contributor to The Long Gaze Back and also a founding editor of the literary journal Banshee.
The short stories picked by the writers can be found in the following books:
(most of the links are to the library catalogue so you can't access them now but you might want to bookmark them for the future);
The event was recorded at Farmleigh House on 6 April 2018
You can subscribe to the Dublin City Libraries and Archives podcast on Soundcloud, iTunes, Stitcher, Spotify or wherever you get your podcasts. This season is based on recordings from the 2018 Dublin: One City, One Book events. Dublin: One City, One Book is an award-winning Dublin City Council initiative, led by Dublin City Libraries and Dublin UNESCO City of Literature, that encourages everyone to read a particular book during the month of April every year. 2018's choice was 'The Long Gaze Back' which you can read on Borrowbox and of course you can order it from your favourite bookshop.
The Dublin: One City, One Book for 2020 is Tatty by Christine Dwyer Hickey, available electronically on our BorrowBox app and from your favourite bookseller.
Finally if you're interested in podcasts why not check out the Dublin Festival of History podcast which features recordings from the free annual event and the new City of Books podcast with Martina Devlin, the podcast for people who believe stories matter. And that you can never have too many books.