Published on 13th September 2022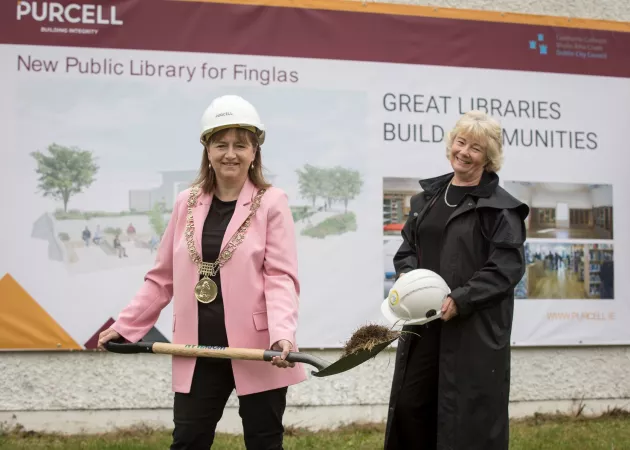 The former An Post sorting office in Finglas village may no longer be delivering post but will soon be delivering top class library services to the community of Finglas.
Dublin City Council is delighted to announce the commencement of works to deliver a Public Library in the heart of Finglas village. The new Library will be located on Seamus Ennis Road, on the site of a former An Post sorting office, which was acquired by Dublin City Council in 2020. 
The sorting office has not been in use for a number of years. However, the main fabric of the building is intact, making it an ideal candidate for 'upcycling'. The building will be retrofitted to meet contemporary thermal performance requirements and specific interventions have been made to optimise daylight and space to provide a sense of well-being and a vibrant place for the community.
The new library will replace the existing service, which opened in 1980 and is located on the first floor of the Finglas Village Centre.  The library although well-used, is constrained by its current premises in terms of the range of services it can deliver. 
The new library will provide a range of collections and spaces to read, study, meet and work as well as providing internet access and free Wi-Fi in a  fully accessible building equipped with public toilets. The project will deliver ca. 400 sq. m. of public space with capacity on site for further development of the facilities.  The expected opening date is summer 2023.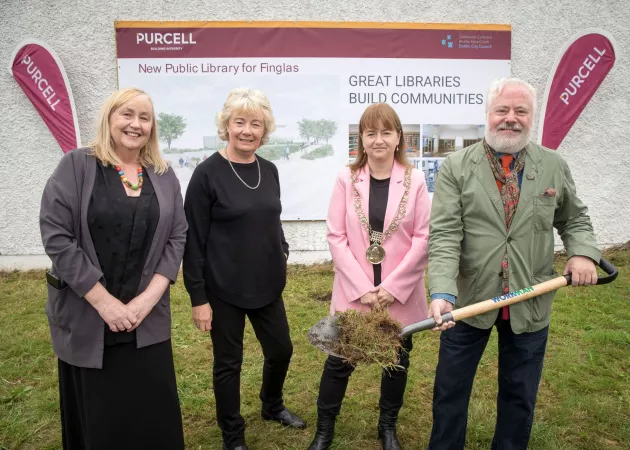 Pictured L-R: Angela Cassidy, Dublin City Libraries; Dublin City Librarian Mairead Owens; Lord Mayor of Dublin, Caroline Conroy; and Deputy City Librarian Brendan Teeling.
Speaking at the launch of the project the Lord Mayor of Dublin, Caroline Conroy said
'I am delighted to mark the start of the works on the new public library for Finglas. Libraries are vital public spaces at the heart of their communities. While the existing library in Finglas village is a much loved and well used local resource, this new library will be a modern, universally accessible community space, and I look forward to seeing the exciting new services that the library service will deliver for the people of Finglas.
I am pleased to see that the project approach has been to retain and upcycle an existing, vacant building instead of knocking it down and re-building, taking a low energy approach and contributing to Dublin City's sustainability objectives.'
Dublin City Librarian, Mairead Owens said 'Delivering a new community library for the people of Finglas is a long standing ambition for the City. This project will deliver on that ambition, providing much needed, free, open and universally accessible space for all.  The new library should also contribute positively to the regeneration strategy for Finglas village in a way that will assist the transformation of the centre of Finglas through the creation of a strong civic focal point for the area.
The project will also include external landscaping to the front of the library.  Louise Cotter of project architects Cotter and Naessens said 'The front lawn will be reconfigured to provide a pocket park with a new seating hub and a gently sloped pathway set in landscaped grounds. The access solution proposed is integrated into a landscape proposal whereby a gentle approach is threaded through the green space between the library and pavement. The use of scented plants in the triangular plots between the path might aid navigation and enhance the sensory experience of pedestrians and wheelchair users, and particularly those of limited sight. This is just one of the design measures adopted to enhance the experience of all visitors to the library and make it a truly inclusive space.'
Tags: