Piocadh Foirne: Leabhair Gaeilge
Published on 5th December 2022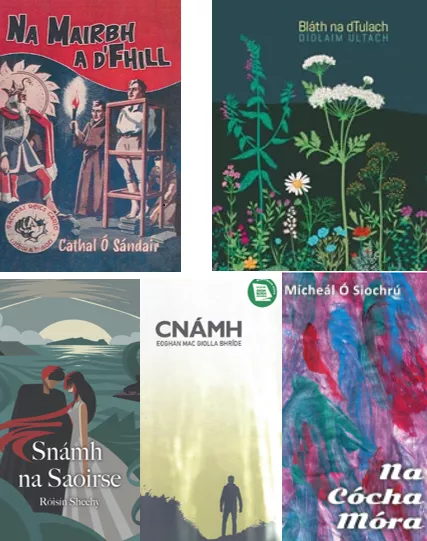 Leabhair Gaeilge
Na Mairbh a d'Fhill le Cathal Ó Sandair; eagarthóir, Roisin Adams. Tá Reics Carló ar ais san eagrán nua seo den scéinséir coireachta 1943 do dhéagóirí. Reics Carló is back in this newly released edition of the 1943 crime thriller for teenagers.
Cnámh le Eoghan Mac Giolla Bhríde. Is é seo an tríú cnuasach gearrscéalta le Mac Giolla Bhríde. Tá 17 scéal in iomláine sa leabhar. Scéalta a théann i ngleic le réimse leathan ábhair a bhaineann le saol an lae inniu. Cnámh is the latest collection of irish language short stories from acclaimed Irish Language author Eoghan Mac Giolla Bhríde.
Bláth na dTulach / Réaltán Ní Leannáin, Eoghan Mac Giolla Bhríde, Mícheál Ó Domhnaill, [eagarthóirí]. Tá scéalta thar a bheith taitneamhach cruinnithe le chéile anseo ó 28 scríbhneoir, idir óg agus aosta, as gach cearn de Chúige Uladh. Here are some really enjoyable stories gathered from 28 writers, young and old, from all over Ulster.
Snámh na Saoirse le Róisín Sheehy. Is athinsint shamhailteach fhileata é Snámh na Saoirse ar fhíorscéal tragóideach a tharla ar an mBlascaod Mór i 1909. An imaginative and poetic retelling of a tragic true story that took place on the Blasket Islands in 1909.  
Na Cócha Móra le Mícheál Ó Siochrú. Chaith Barra Mac Aodhagáin blianta dá óige i scoil thionsclaíoch. San úrscéal seo, leanaimid scéal Bharraigh agus é ag fáil taithí ar fhórsa brúidiúil múinteoirí, agus ar a thuras i dtreo téarnaimh ón tráma sin. Aithris mhothúchánach, mhachnamhach atá ann. Barra Mac Aodhagáin spent years of his childhood in an industrial school. In this novel, we follow Barra's story as he experiences the full force of brutal teachers, and on his journey towards recovery from that trauma. An emotional, thoughtful telling.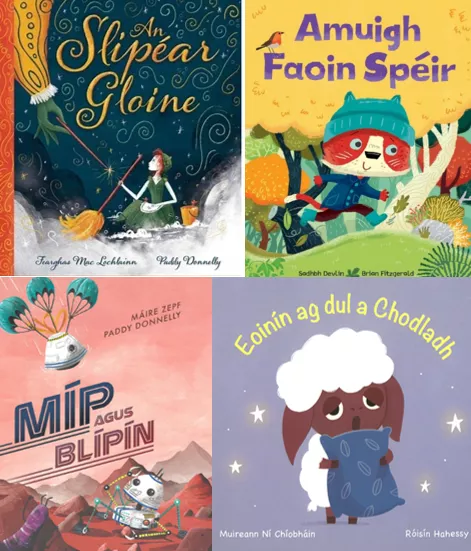 Leanaí
An Slipéar Gloine le Fearghas Mac Lochlainn; maisitheoir, Paddy Donnelly. Athinsint álainn ar scéal Lauthrín, inste le samhlaíocht, le drámatúlacht agus le draíocht. An age-old story brought to life with rhythm, rhyme and magical illustrations.
Amuigh Faoin Spéir le Sadhbh Devlin; maisitheoir, Brian Fitzgerald. Tá Rua brea sásta go bhfuil an deireadh seachtaine ann agus gur féidir leis luí siar ar an tolg agus féachaint ar chartúin ar feadh an lae. Ach tá plean iomlán éagsúil ag Mamaí don lá. The way Rua sees things, Saturday is for lying on the sofa and watching cartoons all day. But Mum has a completely different plan of action…
Eoinín ag Dul a Chodladh le Muireann Ní Chíobháin; maisitheoir, Róisín Hahessy. Tá Eoinín ina chodladh. Anois, tá sé dúisithe! Ó bhó! Níl sé in ann dul ar ais a chodladh. An féidir leatsa cabhrú leis?  Eoinín is wide awake and he can't get back to sleep! Can you help?
Míp agus Blípín le Máire Zepf; maisitheoir, Paddy Donnelly. Ar an bpláinéid Mars, faigheann an róbat Míp bronntanas an-speisialta lá breithe óna cairde ar an Domhan – Blípín an róbat beag. Tá sé cliste, tá sé cairdiúil agus tá sé in ann eitilt! Ach cén fáth, mar sin, a bhfuil Míp brónach? On planet Mars, Míp the robot receives a very special birthday present from her friends on earth – Blípín, the little robot.  He's clever, he's friendly and he can fly!  But why is Míp so sad?