Raheny Library 50th Birthday Celebrations
Published on 14th September 2022
Raheny Librarian Aisling Murray shares her thoughts as the Library celebrates its milestone 50th birthday.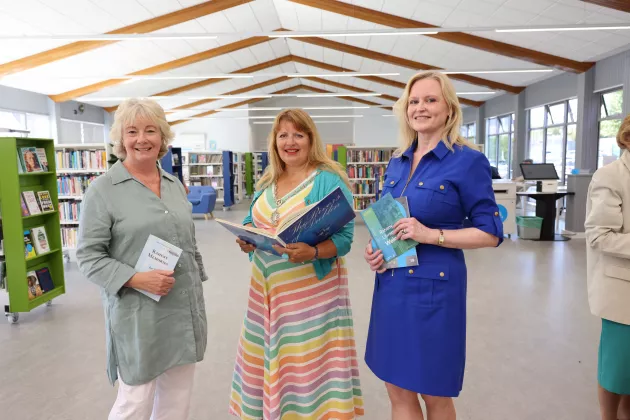 Pictured L-R: Dublin City Librarian Mairead Owens, Cllr. Donna Cooney and Raheny Librarian Aisling Murray. 
Raheny Library was closed for a number of months last year to enable extensive refurbishments.  We were fortunate to receive funding to enable us to get new windows, new blinds, a new ceiling and new flooring. We also upgraded our shelving to new modern units on wheels which are much more practical and allows us to quickly adapt our space when needed. In addition, we had the whole library repainted and got lovely new furniture such as the lounge area in the Adult library where people can sit down and read a magazine or a newspaper. We also updated the furniture in the Junior library to include the lovely story-telling chair and soft seating and our sensory wall. We would also like to thank the North Central Area Office for the funding of two new Age Friendly car parking spaces, the first to be piloted in Dublin City Council.
During our 50 year history we have seen many changes but perhaps the most profound was the Covid pandemic which brought many of our national services to a halt during 2020 / 2021. Library staff quickly embraced the challenge of working from home, finding more and more diverse means of meeting our community's needs. We all used the opportunity to upskill digitally, and put these skills to use promoting our online resources, delivering online story-telling for children, story-telling for Raheny Nursing home, hosting online events and engaging with the public through Facebook. In some cases this allowed us to reach more people than ever before with a talk by the Raheny Heritage Society for the Festival of History attracting an audience of 256 people! We all got used to holding meetings at home through Zoom or MS Teams which were often enlivened by a random child or pet appearing on the screen!
However, the heart of a library is always its books and its borrowers. Nothing could match the feeling of welcoming our borrowers into the library again and meeting face to face. It's great to have local library groups back meeting in the library again such as the Conversation groups of which we have three, Irish, French and Spanish, our Creative Writing group, the Whist group and Toddler group and more! We are enjoying re-establishing our connections with hard-working local organisations such as the Tidy Towns and the Clontarf Lions Club.
We can look forward to a further extension of our services soon with the introduction of the My Open Library service. This will enable the library to be open from 8 o'clock in the morning until 10 o'clock in the evening thus making the library more accessible than ever. 
I would like to thank all the staff in Raheny Library who did so much work during the refurbishment resulting in this beautiful, bright and airy library, in particular Peter O'Reilly who shared the management of the project with me. I would also like to thank our City Librarian Mairead Owens for her support, Fran McDonnell who oversaw the construction process and the help from our Finance and IT departments, in particular Susan Walsh.
Finally, I would like to thank our borrowers for their support and patience and the many positive comments we have received about the refurbishment and the service. So many of you have shared lovely sentiments with us about your memories of using Raheny Library since childhood, including my own husband who claims he was one of the first borrowers to come into the library!
I would like to thank Councillor Donna Cooney for joining us in celebrating Raheny Library's 50th birthday.