Rare and Dramatic First-Hand Account of 1916 Rising
Published on 27th May 2015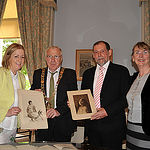 Dublin City Council's Public Library Service organised a preview of a rare eye-witness account of the outbreak of the 1916 Easter Rising at The Mansion House, Dawson Street today (Wednesday, 27th May 2015).
The letter was written by Elsie McDermid, a popular opera singer of the era. She was in Dublin to perform in Gilbert and Sullivan Shows at Dublin's Gaiety Theatre with the D'Oyly Carte Opera Company. However, the performances were cancelled as a result of the dramatic outbreak of the Easter Rising on Monday 24th April 1916. Elsie wrote a 26-page letter home to her mother in England dated 25th April in which she related, among other things, the digging of trenches in St. Stephen's Green and eye-witness accounts of the first casualties on the streets of Dublin.
The letter, which includes Elsie's hand-drawn maps of Dublin during the Rising, now forms part of a personal 1916 archive owned by Elsie's nephew Colin McDermid. Colin is visiting Dublin this week and donated a digital copy of the letter, which is not for sale, to Dublin City Public Libraries while in the city. The copy will form an important part of 'Proclaiming the Republic', an exhibition which will run at Dublin City Public Library and Archive, Pearse Street from January to June 2016. It will also be available online on www.dublincitylibraries.ie
Dublin City Libraries and Archive would like to extend a sincere thanks and its appreciation to Colin for the donation.
The letter begins "We are living in stirring times. I am writing this to be posted if there is any post office left and will keep it till I know it will go." Elsie McDermid kept the letter and other souvenirs of 1916, including shell casings and postcards, which her family preserved. The letter has never been published in historical accounts of the Rising but it and the other items in Elsie's 1916 archive recently featured on the BBC's 'Antiques Roadshow' and were valued at Stg £5,000.
Colin McDermid showed the letter to Dublin's Lord Mayor Christy Burke and City Librarian Margaret Hayes today.
Lord Mayor Burke said: "Letters like this one show us how ordinary everyday life in Dublin was affected by the fighting at Easter 1916. This letter also reminds us that music and entertainment were as important in the Dublin of 1916 as they are now. The D'Oyly Carte Opera Company was a regular visitor to the Gaiety Theatre and I'm sure they received a great welcome when they returned to Dublin the following year. I would like to thank Colin McDermid for his generosity and time in bringing this letter to Dublin so that it can be read by the citizens of Dublin and add to our knowledge of what went on in the city during Easter Week 1916."
Margaret Hayes, Dublin City Librarian said: "It is very exciting that this new source has come to light as we approach the centenary of the 1916 Rising. Although the letter remains in private ownership, Dublin City Libraries is delighted to bring this letter to a wider audience thanks to the generosity of Elsie's descendants. It vividly captures a fascinating eye-witness account which will be accessible online and included in our exhibition programme 2016."
Elsie McDermid made her stage debut in Covent Garden in 1914 and had a London stage career well into the 1920s. She performed leading roles in many Gilbert and Sullivan classics including 'The Pirates of Penzance', 'The Mikado' and 'The Gondoliers'. She also performed roles in Mozart's 'The Magic Flute' and Verdi's 'Rigoletto'. Born in Middlesbrough in 1889, she died in Eston, North Yorkshire, in 1933.
Extracts from Elsie McDermid's letter:
Easter Tuesday
"There they were with fixed bayonets and digging trenches in the Green!"
"One of the maids came home and told us 2 girls had been shot near her in Sackville Street and they were digging trenches there. We went to bed then and just as we were dozing off about 12.30 it began and oh what a night!! You would have thought you were at the war. Shot after shot – volleys after volleys…"
Wednesday morning
"People seem to be going about as usual but you cant get up that part of the town at all. Daisy and I are going to try to get to the theatre as our laundry is there and we have no blouses clean!"
Wednesday afternoon
"Shots are being fired all the time but we are quite accustomed to them now"
Thursday midnight
"They say the north side of the city is starving there are no bakeries there and the bread and milk vans run the risks of being shot"
Saturday morning
"The street at our side (Holles St) is all barricaded with big boxes full of clay and the seats out of the gardens. I am sitting on the floor behind the bed writing this. Daisy is doing her hair- I've just had a lovely bath but had to get out in a hurry as they started at the back and the bathroom has a big window and I could hear their bullets hitting the side of the house. Even the lavatories are full of soldiers."
Books on the 1916 Rising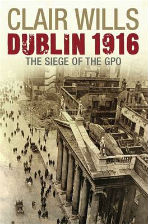 (with links to the library catalogue)