Published on 14th April 2020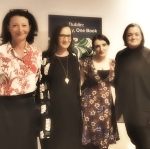 In this episode of the Dublin City Libraries and Archives podcast Lisa Coen, Louise Kennedy and Kathleen McMahon discuss the forgotten writings of Charlotte Riddell, Norah Hoult and Mary Lavin. Ger Ryan reads some of the works under discussion. Sinéad Gleeson chairs.
The panel address questions such as how is a writer forgotten? How much is this influenced by gender? They also discuss the lives and works of Riddell, Hoult and Lavin.
Ger Ryan gives a dramatised reading of extracts from When Miss Coles Made the Tea by Norah Hoult
Frank's Resolve By Charlotte Riddell and In the Middle of the Fields by Mary Lavin.
Lisa Coen is the co-founder of Tramp Press, which published Charlotte Riddell's A Struggle For Fame, which was the first title in their Recovered Voices series. 
Louise Kennedy is a research student at Queens University Belfast. Her PhD thesis is 'Journey Out of Print: the life and short stories of Norah Hoult'. She is working on a collection of her own stories with the assistance of the Arts Council of Northern Ireland.
Kathleen MacMahon  is a novelist, short story writer and journalist. Her first novel, This is How it Ends, was a Number One Bestseller for five weeks in Ireland and was a Richard and Judy Book Club pick in the UK. It was also nominated for two Bord Gáis Energy Irish Book Awards and for the Kerry Group Irish Novel of the Year. Kathleen is the grand-daughter of Mary Lavin.  
Sinéad Gleeson's debut collection of essays: Constellations: Reflections from Life was published in April 2019 by Picador. She is the editor of The Long Gaze Back and The Glass Shore, two anthologies of stories by Irish women writers. She is currently working on a novel. Previously, she worked as a journalist and broadcaster, presenting The Book Show on RTÉ Radio One for four years. She regularly moderates and chairs panel events.
Ger Ryan is one of Ireland's best known actors and received an IFTA for her work on Stardust. She has been nominated twice by The Royal Television Society for her work on the Family and Amongst Women.
Recorded at Pearse Street Library on 19 April 2018.
You can subscribe to the Dublin City Libraries and Archives podcast on Soundcloud, iTunes, Stitcher, Spotify or wherever you get your podcasts. This season is based on recordings from the 2018 Dublin: One City, One Book events. Dublin: One City, One Book is an award-winning Dublin City Council initiative, led by Dublin City Libraries and Dublin UNESCO City of Literature, that encourages everyone to read a particular book during the month of April every year. 2018's choice was 'The Long Gaze Back' which you can read on Borrowbox and of course you can order it from your favourite bookshop.
The Dublin: One City, One Book for 2020 is Tatty by Christine Dwyer Hickey, available electronically on our BorrowBox app and from your favourite bookseller.
Finally if you're interested in podcasts why not check out the Dublin Festival of History podcast which features recordings from the free annual event and the new City of Books podcast with Martina Devlin, the podcast for people who believe stories matter. And that you can never have too many books.