Sara Baume reads from 'a line made by walking'
Published on 7th April 2017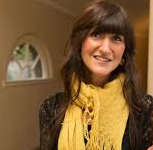 Listen to award-winning Irish author Sara Baume as she reads from her second novel a line made by walking, and discusses how she came to write this, and her debut novel, spill, simmer, falter, wither. Recorded at the Central Library on 9 March 2017, as part of the Contemporary Irish Literature Series.
'A line made by walking' charts a young artist's search for meaning and healing in rural Ireland. Struggling to cope with urban life and life in general, Frankie retreats to her family's rural house on "turbine hill," vacant since her grandmother's death three years earlier.
Books Sara mentions, that like 'a line made by walking', are somewhere between novel, essay and ode to nature: The Outrun by Amy Liptrot, H is for Hawk by Helen Macdonald, The Lonely City by Olivia Laing
Sara Baume studied fine art before earning a Master's in Creative Writing. Her short fiction has appeared in the The Moth, The Stinging Fly, the Irish Independent, and others. She won the 2014 Davy Byrnes Short Story Award and the 2015 Hennessy New Irish Writing Award. Sara's debut novel, spill simmer falter wither received national and international critical acclaim and won the Rooney Prize for Irish Literature, the Sunday Independent Newcomer of the Year Award, the Geoffrey Faber Memorial Prize, and was short-listed for the Costa First Novel Award and is one of seven novels by Irish authors on the longlist for 2017 International DUBLIN Literary Award. Her second novel, a line made by walking was published in February 2017.
Hear more from the Contemporary Irish Literature Series
Hearts and Minds with Donal Ryan and Martin Dyar. A special evening of collaborative and interactive readings with Booker-nominated novelist Donal Ryan and Patrick Kavanagh Award-winning poet Martin Dyar. The two writers also talk about their creative writing process and the centrality of rural Ireland to their work.
Danielle McLaughlin and Roisín O'Donnell read from their collections and discuss their creative writing process.
Thank-you for listening to the Dublin City Libraries and Archive Podcast. To hear more, please subscribe on iTunes or SoundCloud. You can also visit our website - dublincitylibraries.ie and follow us on Twitter and Facebook.
Sara Baume reads from 'a line made by walking