Séamus Ennis, Final Years
Published on 18th April 2019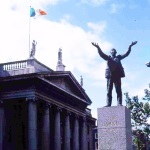 This year marks the centenary of the birth of Séamus Ennis, the renowned musician, singer, folklorist and broadcaster who left behind, to quote from one obituary, "a priceless heritage of Irish tradition to the nation". Inspired by on-going centenary events taking place across Dublin and at the Séamus Ennis Arts Centre, this blog briefly examines Ennis's final years and death.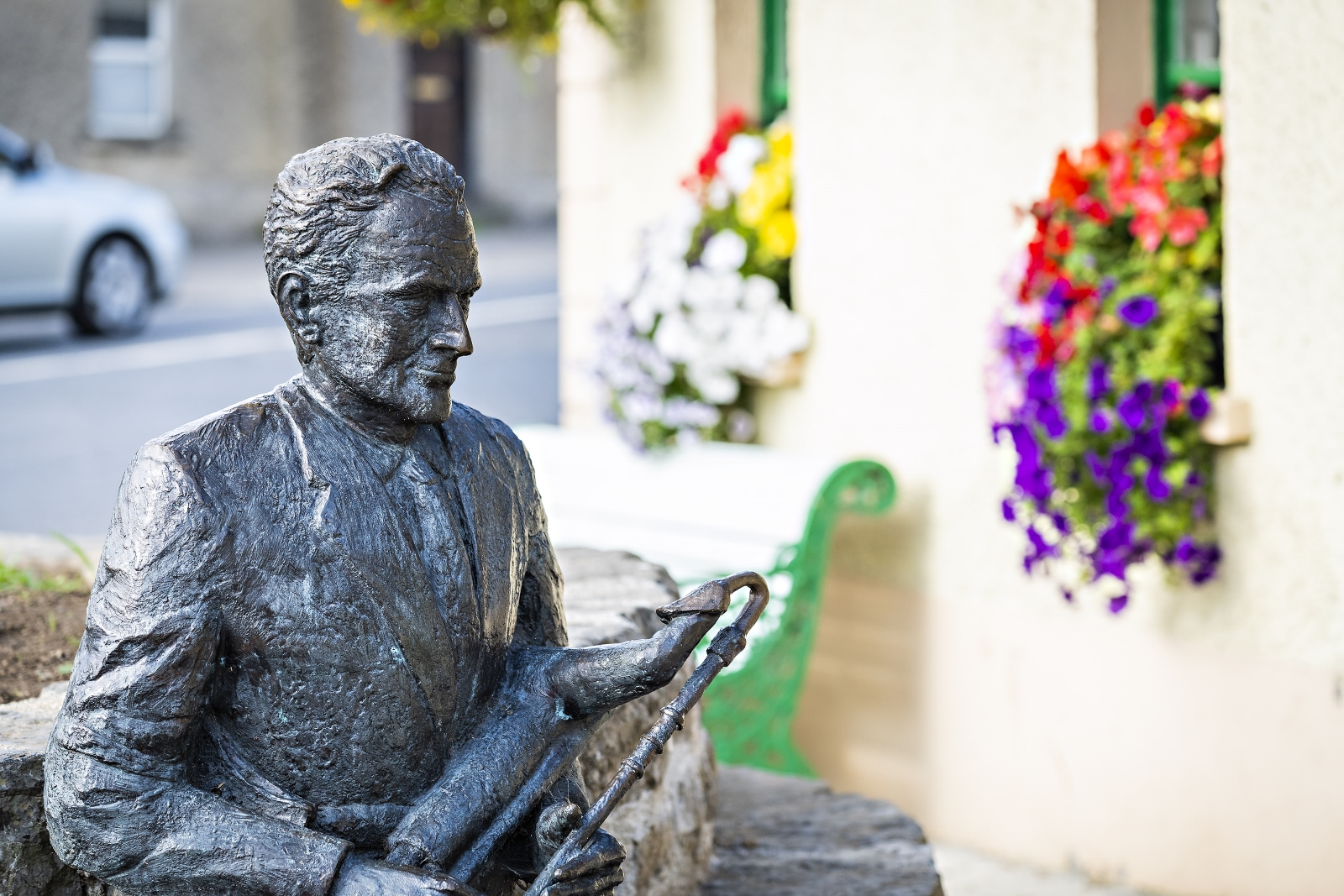 (The bronze statue of Séamus Ennis which was unveiled in Naul on 24th October 2001. Courtesy of the Séamus Ennis Arts Centre)
In 1975 Ennis settled in The Naul to live out his remaining years on land which had once belonged to his grandparents. A countryman at heart, he felt a strong attachment for the area and christened the plot where he lived in a caravan 'Easter Snow' (after the slow air of that name which he was fond of playing). He played an important role in helping to revive interest in uilleann piping during the twentieth century. While he continued to perform across Ireland and sometimes further afield, Ennis's health gradually deteriorated during the period and he underwent an operation for cancer of the throat. An able cook who could deal expertly with game, as his health continued failing it was noticed that he began to lose interest in food.
On the afternoon of Tuesday, 5th October 1982, Ennis passed away at home during his sleep. He was 63 years old. No inquest was held into the death, with the post-mortem examination taking place the following day. On Thursday evening Ennis's remains were then brought from St. Vincent's Hospital, Elm Park, to the Church of the Nativity in Naul, with friends and neighbours standing in the rain for almost an hour to greet the cortege, which had been delayed in heavy traffic.
The following morning Ennis was buried in the adjoining Naul Cemetery. Leading traditional musicians had crowded inside the tiny Naul church alongside neighbours for the funeral Mass performed by local curate Father Malachy J. Mahon, who also officiated at the graveside ceremony. After the recital of a decade of the Rosary in Irish, broadcaster Séan Mac Réamoinn delivered a bilingual funeral oration in which he spoke of Ennis's sincerity, prowess as a piper, and fidelity to north County Dublin and Ireland. This was followed by a lament – "Cois Abhainn na Séad" – played by Liam O'Flynn (Liam Óg Ó Floinn) on a set of uilleann pipes given to him by his deceased friend and mentor.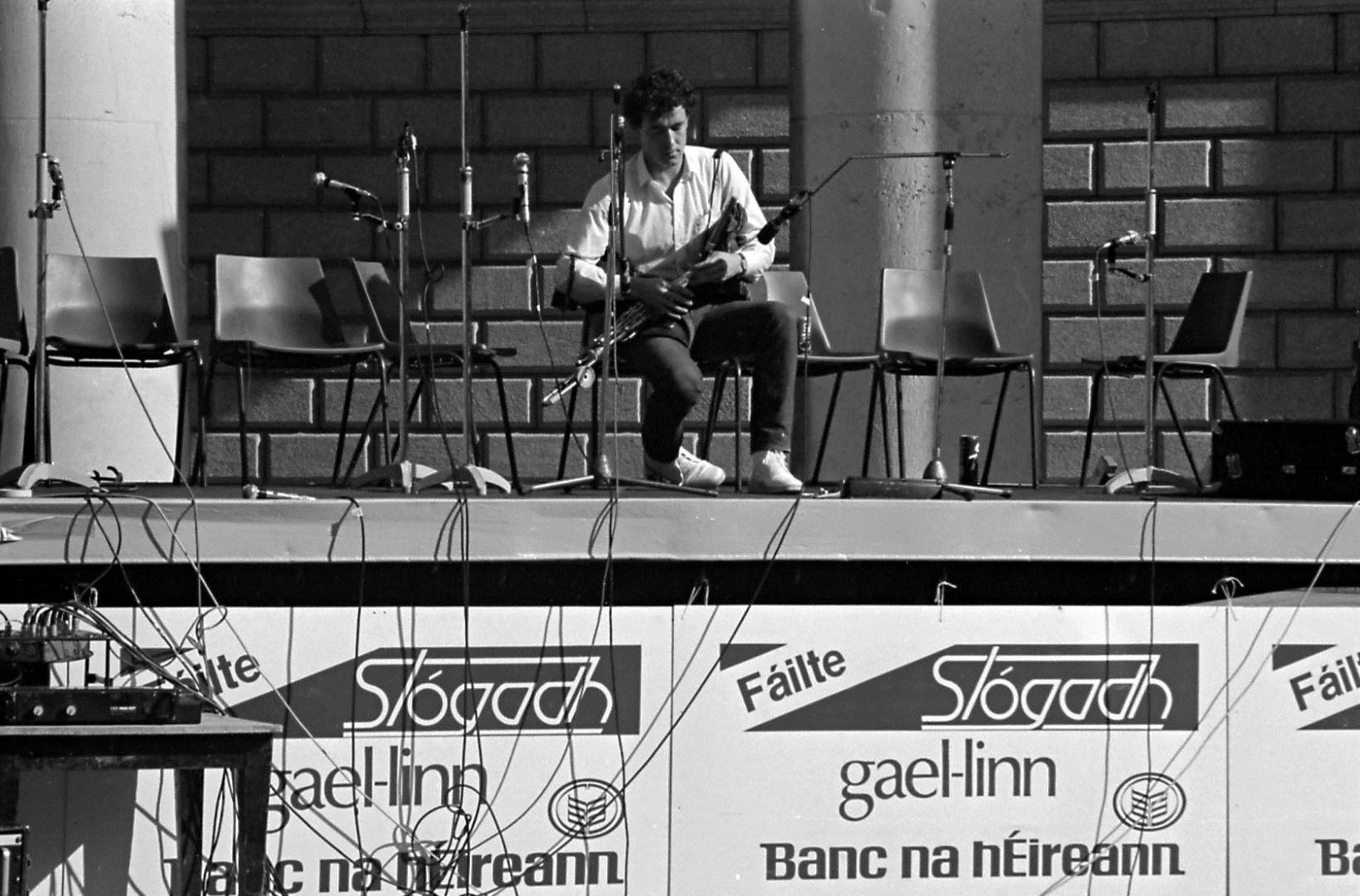 (An uilleann piper at a Dublin Street Carnival in College Green, 1984. Available at;http://digital.libraries.dublincity.ie/vital/access/manager/Repository/vital:42327)
Since his death efforts have been made to keep Ennis's memory alive. These include the renaming of a section of Jamestown Road (Finglas) in his honour in 1994, and unveiling of a bronze statue of Ennis with uilleann pipes in hand beside the newly opened Séamus Ennis Cultural Centre (now the Séamus Ennis Arts Centre) in Naul seven years later. On Friday 3rd May, a new Dublin City Council 'Séamus Ennis Commemorative Plaque' will be unveiled in Finglas at the site of Burgess Galvin & Co. Ltd., Jamestown Road.
Dr. James Curry, Historian in Residence, North West Area.
Dublin City Council Historians in Residence are available to meet groups and schools, give talks, walks etc, run history book clubs and advise on historical research.