Published on 20th April 2020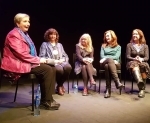 The latest Dublin City Libraries and Archives podcast is the first of a two part episode, "Selected Shorts", we hear actors Rose Henderson, Susie Lamb, Katie O'Kelly and Geraldine Plunkett perform readings from The Long Gaze Back – stories by Éilís Ní Dhuibhne, Lia Mills, Christine Dwyer Hickey and Anne Devlin. The second part will feature a discussion with the authors, chaired by Catherine Dunne. 
Sit back and enjoy the following stories:
Directors: Anthony Fox & Caroline FitzGerald
Coordinator: Jane McCarthy
This event was recorded at the New Theatre on Saturday 7 April 2018. 
You can subscribe to the Dublin City Libraries and Archives podcast on Soundcloud, iTunes, Stitcher, Spotify or wherever you get your podcasts. This season is based on recordings from the 2018 Dublin: One City, One Book events. Dublin: One City, One Book is an award-winning Dublin City Council initiative, led by Dublin City Libraries and Dublin UNESCO City of Literature, that encourages everyone to read a particular book during the month of April every year. 2018's choice was 'The Long Gaze Back' which you can read on Borrowbox and of course you can order it from your favourite bookshop.
The Dublin: One City, One Book for 2020 is Tatty by Christine Dwyer Hickey, available electronically on our BorrowBox app and from your favourite bookseller.
Finally if you're interested in podcasts why not check out the Dublin Festival of History podcast which features recordings from the free annual event and the new City of Books podcast with Martina Devlin, the podcast for people who believe stories matter. And that you can never have too many books.
Selected Shorts: Readings from The Long Gaze Back