Published on 7th April 2021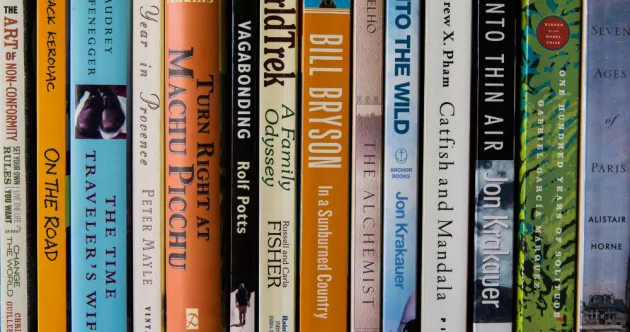 The  Island that Dared : Journeys in Cuba by Dervla Murphy
This is an account of three visits to Cuba in 2005, 2006 and 2007. She travelled with her daughter, Rachel, and Rachel's three daughters, aged 6 years to 10 years, in 2005. She was on her own, in the other two years. Dervla Murphy describes these journeys in her own inimitable style.
In 2005 they stay in Santiago , a city next in size to Havana, the capital. They also explore more out of the way places by bus and by walking. They take setbacks in their stride as when cafés and food shops are hard to find. Their preference for independent travel isn't encouraged in Cuba. The writing here races along, imbued with their easy camaraderie. When Dervla returns in 2006 she explores the history of Cuba. She does this as someone who is sympathetic to Fidel Castro and the Revolution. She is critical of U.S. policy towards Cuba. Sometimes it can feel like heavy going and I was glad whenever she reconnected with local people.  These interactions were like a breath of fresh air.
In 2007 she again travels solo. She looks at more recent history. She is interested in describing Cuban society from the start of the Revolution in 1959, when Castro came to power. She points out the benefits of their good education and health systems.  In 2006 power transferred to Fidel's brother, Raul. She sounds out locals on this. There is an extensive bibliography.  For me, the book is grounded in the way she observes the" rhythms of local life".
This e book describes a climb of Everest in 2018. Ben is married to Marina and they have a son, Ludo and a daughter, Iona, both in primary school. He is an adventurer, a mountaineer and a presenter of T V programmes, many of which are nature programmes. Climbing Everest was a long- standing ambition.
He climbed with Kenton, from Madison Mountaineering. Kenton had made it to the summit twelve times. It's common practise to climb with mountaineering company. Also with him was Victoria Pendleton, an Olympic cyclist and Mark, their camera man. For Ben the climb is very much a family affair. Marina gives her thoughts at the end of each chapter. Climbing Everest isn't for the faint hearted. It has claimed many lives. They spend a lot of time pondering the risks. Both Ben and Marina have same attitude to risk "enjoy life, take the risks".
The book tells of the transit to base camp.  It's good practice to climb to camp three or four and return. This helps you to acclimatise to the altitude. At this stage, Victoria got bad altitude sickness and returned home. The climb to camp four and upwards to Everest is full of excitement.  The regulator on his oxygen tank breaks. He is quite close to the top.  Will he make it?
The descent is often more dangerous than going up, but all goes well. He is home, to his family, in a remarkably quick time. All in all, an inspiring read.
Wild :  A Journey from Lost to Found by Cheryl Strayed
Cheryl Strayed had a lot of misfortune in her life in her early twenties. Her mother died in her forties, her brother and sister went their separate ways and she divorced her husband. Picking up a book, by chance, on the Pacific Crest Trail, she decided to undertake this arduous walk. She was looking for some alone time.
The PCT , she walked, goes from California over the Sierra Nevada mountains, then the Cascade mountains and on to Bridge of the Gods, on the border of Oregon with Washington. She is mostly on her own. She does meet other hikers. Like the hiker who helps her lighten the weight of her heavy backpack. The weight was causing bruising on her shoulders.
There was heavy snow that year. She had to hitchhike to a stop beyond the Sierra Nevada. There are designated stops on the trail. This allows her to pick up a box of essentials for the next stage of the journey.  Lisa her friend, posted these to her. When her boots broke, she had a new pair posted to a stop. At this stage her feet were badly blistered.  After three weeks, she arrives at Sierra city. It is 1008 miles to her destination at Bridge of the Gods.
The time alone and the silence of her days do help her revalue her life. She is met with kindness along the way. At times, I was willing her on, as when the going got tough. At other times, I was cheering her on, as when she faced a difficult situation. A very engaging read.
Access eBooks/eAudiobooks on your phone, tablet or reader. Once you have installed the app, search for Dublin in the 'Library' field provided and then sign in using your library membership card number and PIN.
Watch our how to video on Borrowbox. Members of other library authorities will need to log in using a different link.