Through the Looking Glass: Tourism in Dublin, 1950 - 1990
Published on 7th March 2016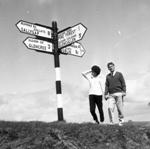 These photographs tell a part of the story of tourism in Dublin, offering an insight into how the city has been seen from both the inside and out. The timeline created by these images allows for an interesting comparison between then and now.
The bustling streets of Temple Bar, so familiar today, are not a feature of these images, and it is interesting to compare today's O'Connell Street, Trinity College and other tourist hotspots with the comparatively quiet scenes of years gone by. Food/hospitality, sports and events tourism, all which characterise much of today's tourist marketing, are absent from these early images.
There are also plenty of similarities, though. Many of the icons of Dublin's landscape today feature in these images: its pubs, coastline and countryside, Guinness advertising and institutions such as the National Library of Ireland and Kilmainham Gaol.
Overall the photographs illustrate an evolving Dublin, proud of its cultural institutions, that has a long-established reputation for being a welcoming destination for tourists. But is all as it seems? What kind of tourist are these images trying to attract? Does the image match the realities of Dublin? The city has become increasingly self-conscious in how it presents itself, as travel becomes easier and a competitive market of international tourism emerges. The use of models from the early 1960s onwards is an important development in this respect. Photographs of derelict buildings, modern architecture, Dubliners at work and ordinary streets are also present here, but it is difficult to imagine them being a part of tourist promotions today.
In addition to these images from the Fáilte Ireland Collection, Dublin City Libraries hold many other sources of information on tourism in Dublin. The Reading Room, Dublin City Library and Archive, holds a wealth of material including a selection of old tourist guides and publications, many of which contain old maps of the city.
About the Gallery Creator
This gallery was created by Jenny Mitcalf, who carried out an internship at the Dublin City Library and Archive in 2016 as part of Trinity College Dublin's MPhil in Public History and Cultural Heritage.
View Copyright Statement.
Further Resources
Dublin City Libraries has a wide range of sources on the social, political, and cultural history of Dublin, some of which are available online and some through the Dublin City Libraries network.
The Reading Room, Dublin City Library and Archive, Pearse Street holds a wealth of material on the history of Dublin, including books, pamphlets, journals, street directories, and almanacs.
The following online resources can be accessed free of charge at your local library. Ask library staff for information and assistance.
For further reading, consult the Library Catalogue.