Published on 29th January 2019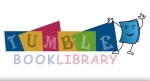 This week, we are going to take a look at TumbleBooks, an online resource especially designed for the little ones in your life. TumbleBooks are animated, talking picture books which teach children the joy of reading in a format they'll love. TumbleBooks are created by taking existing picture books, and then adding animation, sound, music and narration to produce an electronic picture book which you can read, or have read to you. This resource also includes National Geographic videos and games.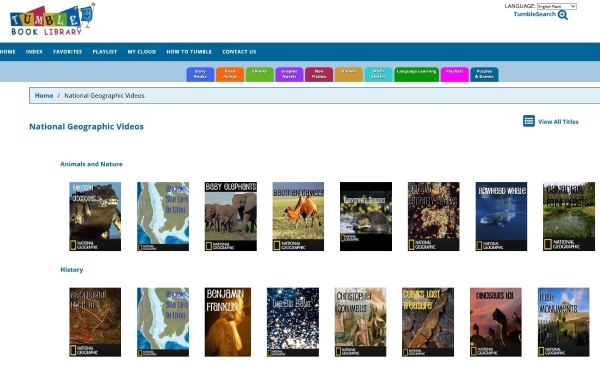 (Example of National Geographic Videos)
Available on TumbleBooks:
Story Books: This option features animated, talking picture books for the younger reader. The reader has the option to automatically or manually turn the pages.  
Chapter Books/Read-Alongs: While this option does not include animation, the ebooks are narrated. They also include Chapter menus so that you can jump chapters, and a bookmarks and notes feature which are cookied onto your computer. Chapter Books also allow readers to change the colors of the background and text, as well as the font style, size, and line spacing. This helps to make the ebooks even more accessible to a wider range of readers. 
Videos are from the world renowned National Geographic! Simply click on "Watch Online" to watch the 2-5 minute clips on various topics. Most of these videos have been paired with ebooks as a way to introduce a topic! 
Featured is where teachers, librarians, parents, students, and TumbleBooks staff can recommended a book! It's a quick and easy way to find books on those rainy days! 
Puzzles & Games accompany each book and reinforce concepts from the books, allowing for a fun and educational learning experience. 
Language Learning is an easy way to access our French and Spanish titles! 
Non-Fiction contains a growing collection of non-fiction titles in subjects such as health, science, astronomy, biology, and nature.
Playlist allows you to access the pre-loaded playlist. The eBooks play back-to-back just like a music playlist! In addition, you can create your own playlist! Simply click on the "Add to Playlist" button below a TumbleBook to create your own!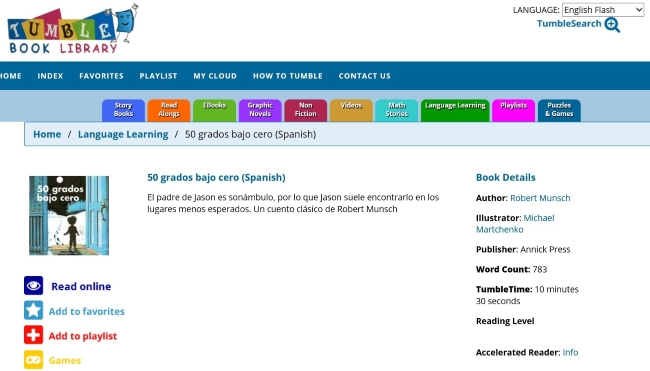 (Example of Foreign Language eBooks)
Access How:
Website; Follow link below. To register; select the "My Cloud" tab, click where it says "Register" and enter your library card number and pin as your username and password.
App; Select "Library" tab, in country box fill in "Ireland" (Note; state is NOT required), select Dublin City Council Public Library and enter your library card number. In main menu select "View by Detail" to add your favourite books to "My Favourites."
URL: http://www.tumblebooklibrary.com/autologin.aspx?UserID=08Hezhy7Lfgp480vNdjp%2bw%3d%3d