Two Crosses at Glendalough
Published on 7th April 2016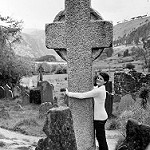 I am currently digitizing photographs from the Fáilte Ireland Photographic Collection at Dublin City Library & Archive. These photos date from back to about the 1930s up until the present day. There are also negatives, in all sizes from glass plates to 5x4 negatives to small 35mm. The negatives are in good condition and due to their size they retain a great amount of quality.
The photos for the most part are of Ireland's popular tourist destinations but also of places that are historically important. The photos show the unique beauty of Ireland and its unique culture. The boxes are organized by county. So I started with Wicklow as it is where I am from. After getting through several photos I found one funny picture of a lady hugging a cross and later on I found one similar. It was from Glendalough. I've been to Glendalough a lot; my grandparents are buried there. I've never noticed this large cross and certainly never noticed anyone hugging it. The cross is 'St Kevin's Cross' or 'The Wishing Cross'.
Another picture that caught my eye was of a cross that was standing inside what looked like an old stone room. This cross was distinctive in its appearance. The cross appeared to be cracked in several places and also had a relief of a crucifixion on it. What also struck me was its location as if it was in storage or locked away.
The Wishing Cross
St Kevin's Cross as it is also known is almost four meters high. It stands in the graveyard near to the cathedral. The name 'Wishing Cross' derives from the legend that anyone who comes to the cross should try to embrace it. If they can wrap their arms fully around it and touch their hands on the other side a wish can be granted. The cross was dug and straightened and reinforced in 1989 so today it looks different from the pictures from Fáilte Ireland which are from between the 1940s and 1950s.
The Market Cross
This Cross dates from about the 12th century. The name comes from the original location of the cross. It stood near the front of the entrance gateway where a market took place. Due to increasing traffic it was moved in 1912 to St Kevin's Kitchen where it stood before being placed in the visitor's centre. The cross was rebuilt from several different pieces in the 19th century. These different pieces show evidence of different types of wear and decay so it is believed they could have been used for different functions. Another piece seems to have been buried for some time. The pieces were found scattered around the Glendalough site.  The cross features the figure of the crucified Christ with another figure under him, possibly a saint or bishop.
All black and white photographs are from the Fáilte Ireland Photographic Collection, Dublin City Library & Archive. 
See more Fáilte Ireland images in 'Through the Looking Glass': Tourism in Dublin 1940s-1950s
About our Guest Blogger
Written by Joe Melican, Solas Student in the National Print Museum, on work experience in Dublin City Library and Archive, Pearse Street.