Weavers and The Liberties
Published on 12th September 2019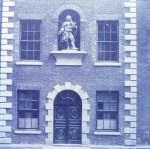 The Dublin City Library and Archive holds a beautiful image of the old Weaver's Hall on The Coombe Dublin, a  building still fondly remembered by older citizens in the area. The image shows a dignified guild hall, with a statue of King George II by Van Nost holding shuttles and other implements used in the weaving process set in an alcove above the main entrance. 
Although the Weaver's Hall is long gone, there is still a lot of evidence of this once major industry that existed in this area over a 1,000 year timespan. The most obvious are various placenames. Weaver's Square off Cork Street, and the adjacent Ormond Street commemorated both the Huguenot weavers who settled here in great numbers from the late 1600's and the man who invited them over, the Duke of Ormond. Nearby Newmarket was constructed in the 1670's by the Earl of Meath in response to this rapidly growing industry, to facilitate trade in wool, hides and flax and also the finished products. The Earl also included space for his own market, and this added to the unique shape and layout of Newmarket, still with us today.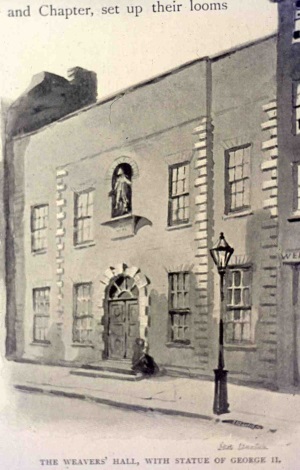 Above: Illustration showing statue of George II in niche on first floor facade.
Earlier evidence of weaving has also been found in recent archaeological excavations prior to new developments in The Liberties. Items from the Hiberno-Norse era, such as whorls, spindles, weights and bone needles have been found, together with evidence of a thriving cap and scarf/shawl industry in both wool and dyed, watered silk  - an indication of 'high status' - being found.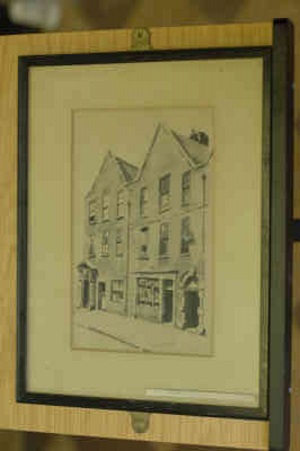 Above: Framed painting of Weaver's House in the Liberties by Rose Barton.
The imposition of tariffs and taxes on the Dublin weavers eventually caused the slow decline of this tradition, but not before it re-invented itself into other related industries.  The manufacture of poplin gave way to a significant upholstery industry, providing seating, padding and also lace for carriages, the mode of transport at the time.  Later, with the coming of the motor-car, a thriving industry arose specialising in ladies and gents motor scarfs and mufflers. Frys of Cork Street also announced that it was possible to get the latest in bow-ties to finish the ensemble!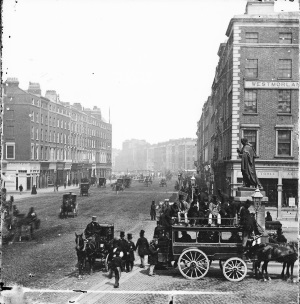 Above: Horse-drawn Omnibus, Westmoreland Street, Dublin (circa 1865). Courtesy: National Library of Ireland (Original)
Today, there is a renewed interest in this oldest of trades, with the Botany Weavers – the one remaining company near Dolphin's Barn who operate from premises that once housed the City Woollen Mills and who are key suppliers to Aer Lingus and City Jet, recently announcing an expansion to its business, thus continuing a tradition of 1000 years of weaving in this area.
Blog post by: Cathy Scuffil, Historian in Residence,Dublin South Central.