Who Else Writes Like This?
Published on 20th December 2018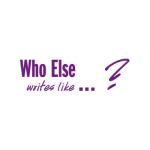 The online resources featured in this week's blog are 'Who Else Writes Like…?' and 'Who Next…?'
Both resources are compiled by two professional librarians of long experience, drawing on contributions from other librarians.
To access either one of these resources, all you need is your Dublin City Public Libraries card.
Just log in with your library card number at the links below, and then select Dublin City Public Libraries.
 
 
'Who Else Writes Like…?'


"I've read everything written by my favourite authors, what shall I read next?"
Sound familiar? Well this online resource helps answer that dilemma.
 
'Who Else Writes Like…?' is an established reference web resource and reading promotion tool. It is designed to help anyone who enjoys reading fiction to expand the number of writers they read.
With the click of a mouse, youi can browse by genre or go straight to an author of interest, check up on characters and series or the latest prize-winning writers, and follow the links to authors' websites for additional information.
So click on 'Browse authors' to get started and discover a whole new world of fiction writers based on your favourite authors.
https://www.whoelsewriteslike.com/
 
 
 


'Who Next...?' is specially designed to help parents, teachers and librarians in encouraging children and young people to explore the world of reading.
 
When children ask: "Who can I read next?" or "Who writes like my favourite author?", the answers are here in 'Who Next…?'  Writers of children's fiction are listed with suggestions of other authors who write in a similar way, together with key book and series titles.
You can browse:
Four age groups: 5-7, 8-11, 12-14 and 14+
Genre and theme
Graphic novels, read out loud titles, short stories and titles for dyslexic or struggling readers
Prize-winning children's books
Country of birth of authors
Other useful links
This is an invaluable tool for parents, teachers and librarians to help children explore the world of reading. As the award winning author, Alan Gibbons, says "A reading child is a successful child".