Who Feared to Wear the Red Hand Badge! Songs and Poems of 1913 Lockout
Published on 18th October 2013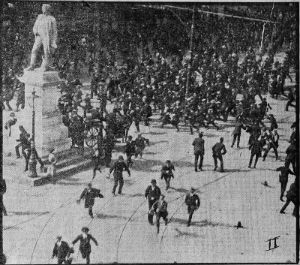 The Lockout 1913 inspired many poems, ballads, songs and rhymes. Many of which were published in The Irish Worker. These poems and ballads provide a vivid portrait of the conditions faced by Dubliners during the Lockout, the battle between the Irish Transport and General Workers' Union and the Dublin Employers' Federation and the key personalities of the time.
As part of the City Hall Springtime Lectures Francis Devine and Fergus Russell performed ballads and songs of the 1913 Lockout. Songs include 'Freedom's Pioneers' by James Connolly and 'The Red Hand Badge' by AP Wilson.
Image from A Capital in Conflict, Dublin City and the 1913 Lockout. Copyright: Dublin City Library & Archive
Francis Devine's accompanying historical commentary gives the background of the Lockout and the songs featured here. He discusses The Irish Worker newspaper, women and the Lockout, Bloody Sunday, victims of the Lockout and figures such as Jim Larkin, William Marting Murphy, Divisional Magistrate E.G. Swifte (aka "forty bob") and Rosie Hackett after whom the newest bridge over the River Liffey was recently named.
Listen to songs and poems of the 1913 Lockout with historical commentary by Francis Devine.
Recorded by Dublin Community Television on 2 April 2013 as part of the Spring series of City Hall lectures. The City Hall Lectures are organised by Dublin City Archives.
Further Resources
Dublin Commemorations 1913-1916 Sources available at Dublin City Archives.
The Reading Room, Dublin City Library and Archive, Pearse Street holds a wealth of material on the history of Dublin, including books, pamphlets, journals, street directories, and almanacs.
Browse books on the 1913 Lockout in the Library Catalogue. 
Dictionary of Irish Biography: Over 9,000 signed biographical articles. Includes many figures from 1913 Lockout mentioned in this talk such as James Larkin, William Martin Murphy, James Connolly, Delia Larkin, Countess Markievicz, Helena Moloney, WP Partridge.
The following online resources can be accessed free of charge at your local library. Ask library staff for information and assistance.
For further reading, consult the Library Catalogue.