Writing for Children Tips and Advice Session
Published on 3rd March 2008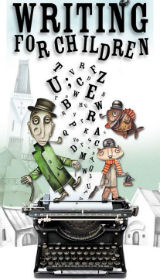 Barry Cunningham and Mary Byrne presented a tips and advice session aimed at writers of children's literature in Dublin City Library and Archive on 23 February 2008. The practical advice centred on elements of successful children's literature and the publishing and marketing process. In association with the Verbal Arts Centre in Derry.
Mary Byrne worked in the children's publicity department of Puffin for years and she is now a PR consultant specialising in children's books. She plans campaigns for children's writers such as Cornelia Funke, Darren Shan, Cathy Hopkins, Derek Landy and Kate Thompson. She works closely with The Chicken House, Harper Collins and Picadilly Press.
Barry Cunningham was the Marketing Director for Puffin, while there he worked with many of the great names in children's publishing including Roald Dahl, Mary Norton and Spike Milligan. He then set up the children's publishing wing of Bloomsbury and while there he discovered JK Rowling. He set up his own publishing company The Chicken House in 2000. The Chicken House has published best selling books by Cornelia Funke, Kevin Brooks, Lucy Christopher and Rachel Ward and bestselling The Tunnels series by Roderick Gordon.
Thank-you for listening! To hear more, please subscribe to the Dublin City Public Libraries and Archive podcast on iTunes or SoundCloud.
Creative Writing for Children