Yeats and Dublin - its people and places
Published on 23rd June 2022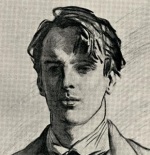 Did you know that W.B. Yeats was born in Dublin?
That his family were resident in Howth and Terenure during his teenage years?
That he lived for substantial periods of his life in Merrion and Fitzwilliam Squares?
That his family and many of his closest friends were staunch Dubliners?
That his final home was in Rathfarnham?
The connection between the poet and the city is often underestimated, partly because of Yeats's own close identification with the west of Ireland. But the people and places of the capital played an important part in his development as a poet and as a person, not just during his formative years, but throughout his life.
Further Resources
In addition to these photographs, Dublin City Public Libraries also include further sources on the social and cultural history of Dublin, some of which are available online and some through the Dublin City Public Libraries network.
The Reading Room, Dublin City Library and Archive, Pearse Street holds a wealth of material on the history of Dublin, including books, pamphlets, journals, street directories, and almanacs.
For further reading, consult the Library Catalogue.