Cycling numbers in Dublin have more than doubled in the last decade. This increase means there is much more demand for bike parking in the city. To keep up with this demand, DCC have installed 5,956 cycle parking spaces since 2013 and are aiming to add another 2,000 cycle parking spaces in 2021 and 2022.
On-Street Cycle Parking
Cycle parking can be installed on publicly accessible land in suitable locations that have enough space. For cycle parking to be installed on a footpath, the path needs to be at least 3.3 metres wide. More space will be needed in areas of high footfall.
Cargobike Cycle Parking
Cycle parking for cargo bikes is now available at St Stephen's Green and on Manor Place.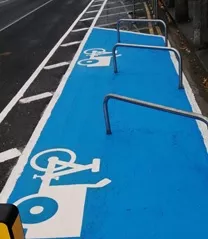 Indoor Cycle Parking
Drury Street Cycle Parking Facility
Indoor cycle parking in the heart of the city centre is available at Park Rite on Drury Street. The facility has 300 cycle parking spaces, including cargo bike spaces and bicycle maintenance area with basic tools for repairs. The facility is bright, spacious and is monitored by CCTV security cameras. Cycle parking at the Drury Street facility is available free of charge 24 hours a day, 7 days a week. 
Six secure bike lockers have just been installed in Drury Street Car Park as part of an initial 12-month trial. The lockers will be available to hire on a long term basis to members of the general public. 
Northside Cycle Parking Facilities
We are working in partnership with two car park providers to provide indoor cycle parking in 2 Northside facilities. Details as follows:
Jervis Street
Cycle parking is available at APCOA Jervis Street car park at 61-66 Jervis Street, Dublin 1. The facility has 64 cycle parking spaces and 4 accessible / cargo bike spaces.
Cathal Brugha Street
Cycle parking is available at Q-Park The Spire on Cathal Brugha Street. The facility has 98 cycle parking spaces and 4 accessible / cargo bike spaces. This facility is available free of charge 24 hours a day all year round. Registration is required to use this facility. Register at www.q-park.ie/TSBP to receive a QR code. This QR code is needed to access cycle parking.
Bike Bunkers
BikeBunkers are secure hangars for city residents to securely store their bicycles close to their home and under cover, saving space and worry. A space in a BikeBunker costs €100 per year. For more information and to apply for a Bike Bunker in your area please visit https://bikebunkers.ie/
Cycle Parking for Schools and Sports Clubs
To enable more people to cycle to school and to training, DCC provided schools and sports clubs with free cycle and scooter parking. This programme is currently closed, but future opportunities to apply for cycle and scooter parking will be shared on this site.